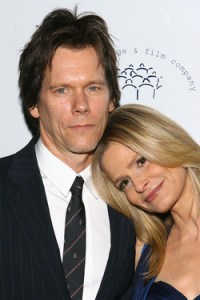 The New York Stage and Film Company held their Winter Gala at Capitale on the Bowery on Monday, a day of the week when theaters are traditionally dark. Actors gathered to raise money for its residency program—a "safe space," artistically cozy and warm, where actors and directors could go to develop new plays unmolested by the public eye and the tyranny of the New York Times critics. "It's the only place I know where I can go and work as an artist and not be judged," said actress Julianna Margulies.
How were the attendees—all of whom were employed in theater, television, and film—anticipating the downturn affecting the entertainment industry?
"Obama has other matters to attend to," said board member and Desperate Housewives cast member Dana Delany, wearing her trademark black-rimmed glasses and a cranberry party dress. "That's why we have to fund the arts in the private sector."
"It's hard to tell," said Ms. Margulies, who was wearing black silk pants and a matching shell. "You think that everyone will run out for entertainment [during hard times]. TV will do well—because you can watch in your living room. Film might suffer—it's expensive to take a whole family out to the movies, and once you buy popcorn…" (Especially that large-large combo—free refills! Not that we'd know anything about that.)
How did Ms. Margulies spend the historic election night? "I went to a gigantic party. All my friends are politicos. There were two sad Republicans in the room. It was the only time I've ever gloated."
What about theater, which already struggles to put on shows—are we in for fewer new plays and more revivals? "I hope to God it doesn't stop new plays from being developed," said actress Laila Robins. Her ballerina-pink dress offset her icy blonde hair; she stood next to boyfriend Robert Cuccioli, who is currently in a New Jersey production of Conor McPherson's The Seafarer.
"A lot of new musicals are coming in, which is great—we need a lot of singing and dancing and laughing right now," said stage actress and Kissing Jessica Stein co-writer and star Jennifer Westfeldt, wearing a ruffled royal-blue frock with black tights. Meanwhile, Westfeldt's partner, Mad Men's Jon Hamm, hadn't yet arrived—the Daily Transom heard he was still busy filming an episode of 30 Rock.
"There are so many revivals," said Kyra Sedgwick, whose acting training was in theater. Her hair was ironed pin-straight for the occasion. "Can we write something new? I would like to see the great new American musical."
Sedgwick's husband, Kevin Bacon, also got his start in theater. "I was 17 when I moved to New York, and I found my home in Off-Broadway and Off-Off Broadway. [They're] places where things will thrive—I think the recession will help—it'll provoke an interesting response artistically."
Mr. Bacon and Ms. Sedgwick, along with real estater and board member Douglas Harmon, were the evening's honorees, for their longtime commitment to theater.
"I got into acting to become as famous as possible and have sex with hot chicks," Mr. Bacon deadpanned upon receiving the honor.
Former mayor David Dinkins took the stage to present honors to Mr. Harmon, but ended up sharing his hopes and dreams instead: "I have wanted for a very long time to play a judge on Law and Order. Ed Koch was on Law and Order, Bloomberg was on Law and Order, Giuliani was on Law and Order." Dick Wolf, are you listening?