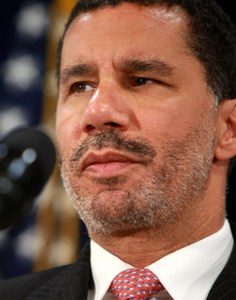 ALBANY—New York City will be taking a particularly heavy hit from David Paterson's emergency budget measures.
At a press conference today in which the governor announced a more far-reaching series of austerity measures than expected, the governor proposed a cut of $41 million in state aid for the five boroughs. But municipalities upstate and on Long Island won't see their allocations reduced—they're only seeing the level of aid frozen for the next fiscal year.
So why is the city getting the special treatment?
"We're trying to locate, in a sense, a need," Paterson said. "New York City managed through this fiscal crisis very admirably, because they did cut. We're not trying to penalize them for that."
The New York Conference of Mayors made its case earlier in the week to avoid cuts.