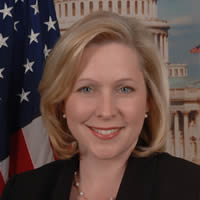 ALBANY—As a candidate to replace Hillary Clinton when she becomes secretary of state, Representative Kirsten Gillibrand is thought to be an attractive option because she represents an upstate district and would be the only woman to hold an elected statewide post.
But the head of the New York chapter of the National Organization of Women said she would prefer a woman with a longer track record of advancing women's issues than Gillibrand, who was comfortably re-elected to her second term.
"I think Kirsten's a great person and a great Congresswoman, but I would prefer at this point to see someone who has sunk her teeth into women's issues and civil rights issues," said Marcia Pappas. "I don't think she's at this point focused on it [women's issues]. She hasn't been there that long – two years, that's not a long time. In her defense, I think that she's a great person, but experience I think is something that we have to look at. We have to look at some of the women who have been around for a little while and know how to navigate the system."
Pappas said she expects NOW will formally endorse a candidate for the post – possibly as early as next week. Her personal preference is for Representative Carolyn Maloney, who represents parts of Manhattan and Queens. "I think she's done a wonderful job," Pappas said. "She of course has been the prime sponsor of the equal rights amendment, and she has also been very active around issues of pay equity and reproductive rights."
Governor David Paterson hasn't said much publicly about his decision, but indicated Wednesday he might wait until after Clinton is not just nominated, but confirmed, before naming her successor. Last week he said he "wouldn't feel obligated" to appoint a woman to the seat, prompting NOW to issue this statement.
Other hypothetical female candidates for the seat are Representatives Louise Slaughter of Rochester, Nita Lowey of Westchester and Nydia Velazquez of Manhattan.