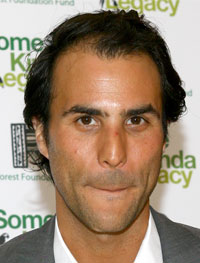 Ben Silverman, co-chairman of NBC Entertainment and NBC Universal Television Studio and executive producer of NBC's The Office, The Biggest Loser, and ABC's Ugly Betty, appeared on Charlie Rose last night to talk about YouTube vs. Hulu, the iPhone, the awesomeness of The Today Show, and other yawn-inducing topics.
A quote from Mr. Silverman during the interview:
'Digital delivery has altered how entertainment is both produced and delivered forever. And it will continue to alter and evolve.'
Ho-hum. The interview left us nonplussed.
But he certainly agitated Nikki Finke. "Yes, I feel so much better about NBC bettering its primetime prospects now that I've watched Ben Silverman toss around phrases like 'disintermediated from my audience via technology' and 'trigger digital activation' on Charlie Rose last night," she wrote on her blog, Deadline Hollywood Daily. "Silly me for thinking that Ben was hired to program the network instead of parrot advertising-speak."
She includes a transcript of the interview and a short critique of Mr. Silverman's spin:
Though I liked his image of advertiser distaste for 'cats peeing' on YouTube, Silverman didn't actually say anything new last night about the topic of TV in the digital age and instead sounded like Jeff Zucker Lite, who in turn keeps tying to mimic his idols Peter Chernin and Bob Iger. (Creepy when media moguls worship their own ilk…)
And another thing! Ms. Finke channels Lloyd Bentsen to say:
I do wish Silverman would stop trying to channel Brandon Tartikoff's ghost. Ben, I knew Brandon. Tartikoff was a friend of mine. And, you sir, are no Brandon Tartikoff. It's especially nauseating to see Silverman quote Tartikoff about never giving up on shows when the nework just cancelled one of its expensive biggies — My Own Worst Enemy, which was plugged relentlessly during NBC's Olympics — after only a handful of airings. And Ben doesn't even take the hit for it.
She also got prickly about what she calls Mr. Rose's "fanboy mode":
Rose obviously didn't do his homework and hadn't a clue what to ask Silverman to break a sweat much less draw blood. Why does Rose descend to idiot savant depths when he sits across from anyone in the entertainment industry? His fanboy mode is so damn irritating not to mention a waste of the forum.
But she doesn't seem to be done with Mr. Silverman just yet. A "bigger story about Ben which I'm almost done writing" should be posted soon.