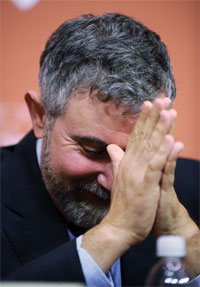 Paul Krugman, The New York Times columnist, Nobel Prize winner, Dr. Who fanatic and totally not dead person, is having some problems with his Times-sponsored blog, The Conscience of a Liberal. (Update, 2:54 p.m.: Thanks, Anonymous (not verified).)
Per Mr. Krugman's post this morning headlined Housekeeping note:
This blog is being shifted over to a new security system today. Since the elaborate software provided doesn't seem to work — right now we're at the 'just click on that tab, and you'll get a menu' 'OK, I've clicked on it, and nothing happens' stage — it may be a while before I can post again.
What this means, we do not know. But if Mr. Krugman's computer knowledge is anything like ours, he will transition into the 'just try shutting the computer down for a minute or two' stage, followed by the 'call I.T. again, but more forcefully' stage.
Let's hope this thing never approaches the 'take the machine out back and teach it a lesson' stage.