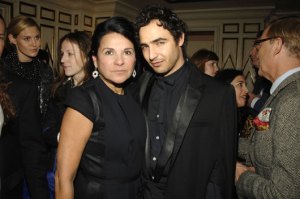 On the evening of Wednesday, Nov. 12, Style.com's executive fashion director, Candy Pratts Price, was standing in the bar of Bergdorf Goodman's seventh-floor restaurant wearing a black Calvin Klein minidress and black bejeweled Edmundo Castillo ankle boots, surrounded by 200 of her nearest and dearest, there to celebrate her new book, American Fashion Accessories.
"I'm so happy that people came out," said Ms. Pratts Price in her trademark throaty voice as dermatologist and socialite Lisa Airan waited expectantly to greet her. "It's not all doom and gloom. We got what we wanted—a new regime!"
She was speaking of the president-elect, for whom she'd shilled in several of her popular animated stream-of-consciousness video-blogs, or CandyCasts.
Designer Zac Posen arrived in a black suit and lined up for a scream and hug before stepping aside to chat with Vogue editor Anna Wintour and her son Charlie Shaffer.
"It's serious, my love for Candy," said Mr. Posen. "There's exuberance, and joy … it's fierce. The moment I met her she was in my life, and a joy and a good friend and supporter."
"She's an icon," said Calvin Klein designer Francisco Costa, fighting to the back of the restaurant for a copy of Accessories, which was commissioned by the Council of Fashion Designers of America (CFDA). "She has this love of fashion and that's so apropos, it's so right for right now, to have Candy be celebrated. Because we really need excitement that's genuine and loving for fashion! Especially now with the whole economy and everybody being so shaky.
"And her blog is amazing!" he said. "I love it."
CFDA president Diane von Furstenberg was perched on a nearby table with legs folded under her in vaguely pinup fashion, running her hands through her hair. "Well, first of all I have known Candy for 30 years," she said. "And she's always on the cutting edge. And she's very … how can I say? She's very much hip and this, and then you have the other Candy, who's a great cook, who has a wonderful husband. She's a real mensch."
Ms. Pratts Price, 58, was born Candida Rosa Theresa Pratts to Puerto Rican parents in Washington Heights; she attended Catholic school and then the Fashion Institute of Technology. A well-known accessories editor at Vogue early in Ms. Wintour's tenure at the magazine and a onetime creative director at Ralph Lauren, she was rehired by Ms. Wintour in 2001 to head Style.com's fashion coverage. "She embraces talent, she disciplines talent," Ms. Pratts Price enthused, speaking by phone the morning after her book party from her 58th Street apartment, which she shares with her husband of 28 years, artist Chuck Price, and their white-haired fox terrier (the couple also have a home in Watermill). "You can run in there with an idea and she allows it to grow or she can just tell you how to corral it."
The site is one of CondéNet's few success stories, with 2,152,092 unique visitors and 140,978,531 page views in October. Over the summer, Ms. Pratts Price was awarded the CFDA's Eugenia Sheppard Award for excellence in journalism; the presentation featured a video of Kate Moss doing a throaty Candy impression, enthusing about Hermès.
Of course, these are hardly boom times in media. "I think there's a major panic over what's going on," said Ms. Pratts Price. "And it's not going to be easy to fix. But you can't stop doing what you're doing, because when it comes back, you'll be gone. You gotta keep your brand awareness, and try to make it work during this doom and gloom."
Ms. Pratts Price has some ideas of how her site can stay relevant in the changing advertising and consumer climate. "I'm a big fan of a crawl—you know what a crawl is?" she said. "On television? I've been trying to put a crawl in at Style, to break things like '10 miniskirts down Fifth Avenue; could this be a trend?' I would love to have a crawl. 'Breaking news: Hats are back!'
"Of course, that's technology, that costs money to build," she conceded. "So I have to ask Mr. Newhouse to expand the budget, and I don't think it's a good time to do that."
She pointed out that Style.com has weathered hard times before in its short life: "After 9/11"—which happened in the middle of Fashion Week—"we were there for the industry, because we were able to deliver the pictures. We also saved a lot of the designers when they couldn't show."
And now? "We're not making a concerted effort to like say get a rose-colored Rolex for $64,000," she said. "But we still believe that somewhere, somehow, you have to keep the enchantment of desire and want and luxury, you know? You just can't say 'Stop shopping.'"
mbryan@observer.com