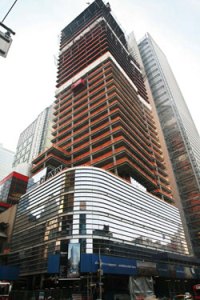 There's a mantra in commercial real estate that industry types repeat ad nauseam, as though the mere enunciation of the words will render them true: The Manhattan market is protected because it is on an island. The scarcity of space, and our general aversion to building new palm-shaped islands à la Dubai, is, in other words, a built-in safety measure.
But like so many sacral beliefs, this one doesn't always jibe with the facts. It didn't hold true in the 1990s, when real estate developers built up as job growth fell down. And if the recession lasts long enough for the World Trade Center towers to add to the growing excess of office space on the market, it might not hold true this time, either, glutting the market with unleased space and upending the fragile psyche of an industry that wants to already believe it's in recovery.
The last thing the market needs right now, in other words, is a new skyscraper. In fact, when a reporter asked Ken McCarthy, Cushman & Wakefield's managing director of New York area research, whether now might be a good time to build, he actually laughed.
"To start a building now when we seem to be just past the peak would probably be somewhat risky," Mr. McCarthy said, after regaining his composure.
His words make our little hearts bleed for Steve Pozycki, whose 1.1 million square feet at 11 Times Square have come online just as the market is least able to fill it with tenants. Same goes for Lev Leviev's Africa Israel, which has spent $170 million rehabbing the old New York Times building a block over. And just imagine if the pending World Trade Center towers actually rise on schedule (an enormous if, we know), adding by 2013 another 6.2 million square feet into the equation.
Just look at the numbers. CB Richard Ellis, in its October "MarketView," reported that downtown Manhattan had a negative absorption rate of 1.54 million square feet, with total available sublease space at 2.21 million square feet. Midtown saw a negative absorption rate of 370,000 square feet. Meanwhile, leasing in downtown and midtown was off 64 percent and 34 percent, respectively, from the five-year monthly average.
It's only expected to get worse. In October, Cushman & Wakefield's New York area COO, Joseph Harbert, said Manhattan's net effective rents could drop 20 percent by the end of 2009.
Barbara Byrne Denham, Eastern Consolidated's chief economist, said it will be a while before rents once again justify the costs of construction. "That's probably why it's not a good time to build," she said. "You still need a higher rent base."
And you still need more tenants.
"Job growth will probably resume in 2011, but in the short run, it will just fill in company vacancies," she said. "It will likely take another six months for occupancy to resume growth."
Suppose, however, the current recession does not dissipate in eight months (the approximate length of the 2000-01 downturn)? A 48-year Grubb & Ellis retrospective released last week showed that the downturn of the early 1970s lasted about five years; and the one of the late 1980s and early 1990s the same.
Yet, let's not get too apocalyptic here. At least it's not the 1990s. According to Ms. Denham, just as job growth was dropping in 1989, 5.4 million square feet of new construction came on the market. In 1990, 3.4 million arrived; in 1991, 980,000 new feet; and in '92, another 1.3 million feet.
Since the debacle of the 1990s, developers have grown more prudent. On the other hand, developers in the 1990s were saved by the dot-com bubble and the growth of financial services. When the dot-com boom went bust, 9/11 hit, taking 15 million square feet out of service. An additional 12 million square feet downtown were then converted to residential space, according to Ms. Denham.
What will rescue the real estate market now? Will 11 Times Square go condo? Will there be a new bubble?
"That's the question for the ages," Richard Persichetti, head of research for Grubb & Ellis, said. "We all hope that within the next four years, the financial markets bounce back and the financial firms start to hire again."
"The wonderful thing about our economy," Mr. McCarthy of Cushman & Wakefield said, "is that people do figure out ways to do things and there is always new innovation coming along, and we can never really identify in the future what it will be."
drubinstein@observer.com