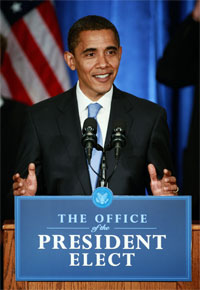 Okay, so now it's a YouTube Presidency, too. In Chicago today, President-elect Barack Obama will video record his weekly Democratic address and post it on YouTube and his transition website, Change.gov, once the original radio address airs this Saturday morning.
"This is just one of many ways that he will communicate directly with the American people and make the White House and the political process more transparent," spokeswoman Jen Psaki told The Washington Post.
More from the Post:
In addition to regularly videotaping the radio address, officials at the transition office say the Obama White House will also conduct online Q&As and video interviews. The goal, officials say, is to put a face on government. In the following weeks, for example, senior members of the transition team, various policy experts and choices for the Cabinet, among others, will record videos for Change.gov.
[…]
President Bush, too, has updated WhiteHouse.gov, which offers RSS feeds, podcasts and videos of press briefings. The site's Ask the White House page has featured regular online chats dating back to 2003, and President Bush hosted one in January after a Middle Eastern trip.
But online political observers say President-elect Obama's innovative, online-fueled campaign will likely evolve into a new level of online communication between the public and the White House–the Internet-era version of President Franklin Roosevelt's famous "fireside chats" between 1933 and 1944.
There is already a video on Change.gov and YouTube featuring Mr. Obama's transition team co-chair Valerie Jarrett giving an update on recent personnel decisions and the latest steps taken on ethics reform. "President-elect Obama adopted the most sweeping and strict ethics rules that have ever been in place in the course of a transition," she said.