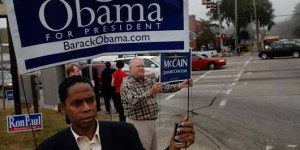 Even if, as most expect, Barack Obama is declared the winner of the presidential race tonight, the campaign may not be over.
In Georgia, Republican Senator Saxby Chambliss is facing a strong challenge from Democrat Jim Martin, a former state legislator. And thanks to the presence of Libertarian candidate Allen Buckley, it's quite possible that both major party nominees will finish with less than 50 percent of the vote, which under Georgia law would trigger a runoff.
An Obama victory coupled with a Georgia Senate run-off would send us back to the future, creating a situation eerily reminiscent of the aftermath of the 1992 election.
It was then, 16 years ago, that Bill Clinton broke the G.O.P.'s 12-year hold on the White House with a sweeping victory that included narrow upset wins in some states that had been strongly Republican at the presidential level – including Georgia, where Clinton edged George H.W. Bush by about 14,000 votes. Clinton's victory gave Democrats firm and complete control of Washington, since they already enjoyed healthy majorities in the House and the Senate.
But there was still some unfinished business. In Georgia, freshman Democratic Senator Wyche Fowler had beaten out his Republican challenger, Paul Coverdell, on Election Day, but his 49 to 48 percent margin (Libertarian Jim Hudson snagged 3 percent) was insufficient to stave off a run-off – the first general election Senate run-off in Georgia history.
For the three weeks between the November 3 election and the November 24 run-off, the Wyche-Fowler contest functioned as an extension of the presidential race. Even though Clinton wouldn't be inaugurated until January, it was seen as the first referendum on the incoming president: How much power were voters willing to vest him with?
Coverdell, who had served as George H.W. Bush's Peace Corps director prior to launching his Senate campaign (and who had run and lost to Fowler in a 1977 special election for the U.S. House), presented his candidacy as an opportunity for Georgians to make sure that the new president, elected with 370 electoral votes (the best for a Democrat since L.B.J.), wouldn't get too big a head – and would stick to the centrist themes he had struck during his campaign.
"You need the checks and balances, just as the forefathers envisioned," he said, "to assure appropriate airing, to assure there are no steamrollers, no trains without brakes."
Fowler and the Democrats countered that Clinton had campaigned and been elected on a promise of breaking through the Washington gridlock – so why not re-elect Fowler, his ally, and resoundingly reinforce that message?
The three-week campaign, which featured several televised debates and a deluge of televisions ads, also included personal campaign appearances from each party's most prominent national faces – including Clinton himself, who made a last-minute plea for Fowler on the eve of the run-off.
"You know what they are really saying about this race?" Clinton said in his speech. "They are saying that if we beat Wyche Fowler it will be easy for us to block everything President-elect Clinton wants to do."
He added: "I don't believe the American people voted on November 3 for more paralysis, for more blame, for more finger-pointing, for more opportunity to shut this country down. I think you voted to build this country up, to change things, to shake things up."
Al Gore, the incoming vice president, also stumped for Fowler, as did former president Jimmy Carter. First Lady Barbara Bush showed up to campaign with Coverdell, who had become a close friend of George H.W. Bush's in the late 1970s (and who served as the finance chairman for Bush's 1980 presidential campaign). Barbara Bush slyly suggested that Clinton's campaign appearance would end up hurting Fowler.
And she was right. On November 24, Coverdell reversed the result of the preliminary vote and defeated Fowler by two points, a 13,000-vote margin, a result that was regarded as a clear slap in the face of the incoming president. (It also seemed to foreshadow the string of defeats that Democrats would meet in various elections in 1993 and 1994, which culminated in the Republican Revolution of November '94.)
If this year's Chambliss-Martin race also heads to a run-off, the '92 example suggests that Chambliss will have the advantage – assuming, of course, that Obama does win the presidency tonight.
Like Clinton, Obama could well win Georgia, or at least run more competitively there than any Democrat since Clinton. And if he is elected, Democrats will be in stronger position in Washington than they've been at any time since Clinton came to office in 1993. In other words, the set-up for the Senate run-off would probably be very similar, and Georgians will again be asked just how much power they want to give to the new Democratic president and his House and Senate allies. (That question could take on added significance if Democrats finish tonight with 59 Senate seats, with a Georgia run-off deciding whether they secure a filibuster-proof 60-seat majority.)
But that doesn't mean that run-off would be hopeless for Democrats. After all, Fowler did still nearly win in '92, amid voter turnout that was much lower than during the preliminary vote. Lower turnout in the run-off would again be the case this year, and that could create an opportunity for the Democrats – one last chance for Obama's vaunted grassroots organization to engineer an unlikely victory.
If that were to happen, then Obama would be off to a much better start than Clinton got off to after he was elected in 1992.