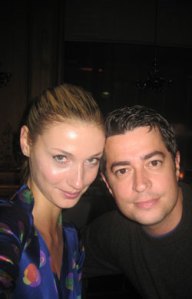 "I think this country should be operating the way it used to be a long time ago which was if you take a risk, then you're going to be punished if it doesn't work out," said Kiliaen Van Rensselaer over drinks Saturday night at the Hotel Plaza Athenee hotel on East 64th Street.
 Mr. Van Rensselaer knows something about how the country operated a long time ago: his great-, great-, many-times-over-great-grandfather of the same name was co-founder of the Dutch West India Company and presided over Rensselaerswyck, a swath of roughly 1,200 square miles of present-day upstate New York. The first Lord of the Manor, as he was called, expired in 1643, but the accomplishments of his descendents—count one general in the Revolutionary War, numerous congressmen, a couple lieutenant governors—assured the Van Rensselaer name longevity. 
Now 38, the current Kiliaen Van Rensselaer grew up in Westport, Conn., and moved to Manhattan after college.
"As a family, we've always been very private," he said. He was wearing a white collared shirt, navy sweater, jeans and loafers. His ancestry was reflected in his face—high cheekbones, square chin, a nose you could hang a top hat on—as well as his confident manner. He'd brought along his girlfriend, Monique Menniken, a former professional tennis player from Germany, who now makes her living as a model.
"I've read a lot about my first great-grandfather who had my name," said Mr. Van Rensselaer, who as an American history major at Trinity College had the unique experience of being able to study the evolution of his family tree.  "He was born in 1580 in Amsterdam and became part of the Dutch West India Company, and they became involved in putting a lot of capital at risk, because they sent a lot of ships and colonial prospects and animals and plants and things over to try to create a set of plantations and successful colonies. I'm a big free-market capitalist, so I understand the kind of risk associated with just sending a ship off where any number of things can happen to it. And if it made it across, obviously it was very difficult to survive. So the fact that it turned into something, and it was one of the only really successful colonies that was privately established, is kind of cool to think about."
Risk and reward. It's the American way. Until it wasn't: Mr. Van Rensselaer is against the government bailout of the financial industry.
"Maybe it starts with the original heritage of Kiliaen Van Rensselaer the first, who took a huge risk to establish the colony," he said. "I grew up in a family in Connecticut which had gourmet food retail stores called Hay Day." His mother, Sallie Drackett, went to culinary school and handled the produce and baked goods while his father, Alexander, took care of the business side. What started as a mom-and-pop store grew into a popular string of markets, bakeries and wine shops, which were eventually bought up by Sutton Place Gourmet and re-branded as Balducci's.
"And so I grew up bagging groceries and stocking tomatoes, in a small-business environment where you really appreciated the entrepreneurial spirit," he said. Even after he'd embarked on his own career, his parents made him work in the store on the day before Thanksgiving, "as a symbolic gesture so that everybody knew that everyone was pitching in, even a Van."
He attended Fairfield Country Day School and still remembers the school motto: Laboribus Iudicamur, meaning "we are judged by our deeds." After that it was off to boarding school at St. George's, in Newport, R.I., where many generations of Van Rensselaers had spent their summers sailing and socializing at the New York Yacht Club and the Spouting Rock Beach Association.