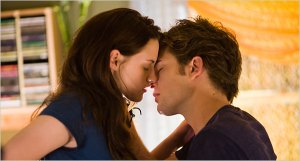 We don't know about you, but we're sick and tired of reading about the collapse of the Big Three. Thankfully, Hollywood is here to help! Today they unveil their own version of the Big Three, and unlike the car companies, this venture is certain to be financially viable. With guaranteed smash hits Bolt and Twilight opening, plus the runaway success that is Quantum of Solace still going strong, this will be one huge weekend. How huge? Expect all three films to gross north of $30 million. Ka-ching! While studio executives get ready to buy bigger yachts (and while car company executives get ready to buy smaller private jets), here's a handy guide to the weekend's new releases.
Bolt
What's the story: When traditional animation was headed towards the fate of the American-made car, Disney decided to put Pixar wizard John Lasseter in charge of the department. Good choice. Bolt feels like Pixar-light, with a trailer that mixes parts of The Truman Show and Homeward Bound: a famous dog, who believes incorrectly that his television super powers are real, goes on a cross-country adventure to save his co-star from perceived danger. John Travolta voices Bolt, and the other characters get some help from Miley Cyrus, Susie Essman and Malcolm McDowell. In addition to garnering bags full of money, expect Bolt to spawn enough toys to stuff stockings around the country for the foreseeable future. Enterprising parents can even take their kids to see Bolt in 3-D. As if a talking cartoon dog wasn't enough sensory overload on its own.
Who should see it: Lassie.
Twilight
What's the story: If you're a girl, you know the deal. If not, let us fill you in. Based on the mega-selling book by Stephenie Meyer, Twilight tells the story of a teenage girl who falls into forbidden love with a vampire. Scandalous! We were expecting this film to get savaged by critics, but so far the reviews have been pretty solid. Even resident internet curmudgeon Jeffrey Wells liked the film–although he complimented it in his own backhanded and smug way. If for no other reason, we want to see Twilight succeed for the sake of Catherine Hardwicke, a talented director who has yet to find the perfect outlet for her considerable gifts. Box office projections have Twilight on pace to possibly top $60 million, but that sounds really low to us–hasn't this movie been sold out on Fandango for the last month? As our esteemed colleague said, Twilight is crack for girls. Expect major bank.
Who should see it: Your sister.