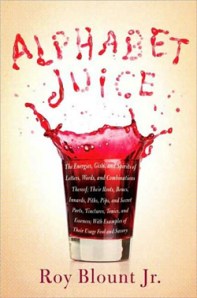 Just a little less than half the population will be disgruntled come Wednesday morning. What exactly do I mean by that? Will they have lost their gruntle along with the election? Not at all. Attend to the irreplaceable Roy Blount Jr., whose Alphabet Juice (FSG, $25) is both useful and a delight:
"Illogically, given its negational force in most compound words, the prefix dis- is sometimes, as here, regarded as an intensifier. To gruntle, colloquially, was to grumble, or as [the New Oxford American Dictionary] puts it, to "utter little grunts."
So … if you're hearing a chorus of little grunts intensified, that's the sound of the disgruntled minority of the electorate.
Let them drown their sorrows in Alphabet Juice. It's easy to do (trust me, I've wasted hours browsing through it), and Mr. Blount graciously shows the way:
"To me, letters have always been a robust medium of sublimation. I don't remember what I was like before I learned my ABC's, but for as long as I can remember I have made them with my fingers and felt them in my bones. Where are we at the moment? We're in the midst of a bunch of letters, and if you're like me, you feel like a pig in mud.
"What a great word mud is. And muddle, and muffle, and mumble. …"
One more wallow, Mr. Blount's riff on "bust":
"Say you went into business selling busts of, say, Pamela Anderson, showing her bust busting out—that would be no bust, if you busted your butt, but if you didn't get permission you might get busted.
"How can this word have acquired so many different meanings, you may have wondered. So did I, till I looked it up in several dictionaries. Nothing much by way of explanation, really. Maybe it all comes down to bust's being fun to say, like, say, stuff."
THE DANCE BOOK OF the year—perhaps the century—comes from The Observer's own dance critic, Robert Gottlieb. Well, at least it's the fattest dance book of the century. Reading Dance (Pantheon, $45) is Mr. Gottlieb's third magisterial anthology, following Reading Jazz and Reading Lyrics, but the jazz book is only 1,000 pages long—a mere anecdote. Reading Dance clocks in at 1,360 pages. Yet if you're a dance person, when you're through with it you're left hungry for more.
If you know Mr. Gottlieb's excellent biography of Balanchine, you won't be surprised to hear that Balanchine lies at the heart of Reading Dance, but he's only a fraction of what's to be found here. There are whole sections centering on the most famous figures in the history of dance—from Nijinsky and Isadora and Pavlova (including an entrancing account by a London lady journalist who goes shopping with her) to Fonteyn, Baryshnikov, Tharp, Farrell, Nureyev and Astaire. (Don't miss the conflicting accounts from Fred and Ginger about the famous feather dress in Top Hat.)
There are riveting interviews, brilliant pieces of criticism (Denby, Croce, Macaulay, Acocella, et al.), profiles (Diaghilev, Fosse, Markova), accounts of the birth of great dance works (Danilova on Apollo, both Tharp and Baryshnikov on Push Comes to Shove), narratives (Dame Ninette de Valois on the narrow escape of the Sadler's Wells company from Holland, barely a step ahead of the Nazis) and, of course, memoirs, by everyone from Cecil Beaton to Bronislava Nijinska to the ultra-unreliable Serge Lifar. And, finally, some uncategorizable extras, like recipes from Tanaquil LeClercq's cookbook, such as her husband Balanchine's horseradish ice cream, and Frederick Ashton's kedgeree.
In short: a desert island book—and just about big enough to be the island itself.