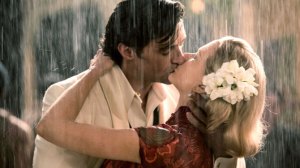 Australia
Running time 165 minutes
Written by Stuart Beattie, Ronald Harwood, Richard Flanagan and Baz Luhrmann
Directed by Baz Luhrmann
Starring Nicole Kidman, Hugh Jackman, Brandon Walters, Bryan Brown, David Wenham
As year-end movies go, I had high hopes for Australia. I really wanted to like this one. In a jaded epoch of pretentiousness and cookie-cutter déjà vu, a humongous, sprawling, romantic, action-packed epic (bring 'em on!) about earth's last untamed frontier, starring Nicole Kidman and Hugh Jackman, was, I bargained, just what the doctor ordered. Alas, it is my sad duty to report that even the two prettiest people on the screen today can't save this titanic turkey from dropping dead of exhaustion. Desperately in need of a pair of scissors at a running time (not much sprawl, but lots of crawl) of almost three hours, Australia is one of the most boring movies ever made, and one of the corniest. Bring bottled water, No-Doze, a sandwich and a clean change of underwear.
I forgot what a bad director Baz Luhrmann is and how much I hated Moulin Rouge! He suffers from massive egomania, delusions of grandeur and a cinematic verbosity for which there is no cure. For a movie that never seems to end, the plot of Australia could be stored in the pouch of a kangaroo. In 1939, on the eve of war, Lady Sarah Ashley (Kidman), a feisty British aristocrat hard up for money, travels to northern Australia to help her husband sell their cattle station, a vast ranch the size of Maryland called Faraway Downs that has fallen into ruins. Instead, she finds her husband murdered; falls in love with the place; adopts an Aboriginal orphan (Brandon Walters); decides to fight the evil cattle baron (Bryan Brown) who wants to buy the land for a fraction of its value and steal her cows; and finds herself stranded in the outback, surrounded by dead trees, rusty trucks, struggling windmills, and vultures. Her only hope for survival is to get the cattle to Darwin and sell the herds herself. The only man who can help is a rugged, two-fisted, woman-shy, pumped and camera-ready cowboy called the Drover (Hugh Jackman). Pursued by rustlers who stampede the cattle and watched over from a distance by an Aboriginal king with magic powers, they travel across the parched, punishing part of the outback called the Never Never, and the journey drags on for what seems like an eternity (it's an hour and a half before the two stars even kiss). After she reaches Darwin, makes enough money to turn the ranch into a great plantation, and balances her womanly passion for the Drover who shares her bed, and her maternal affection for the Aboriginal boy who steals her heart, Lady Sarah's troubles continue. The Japanese who bombed Pearl Harbor now march into Australia, and you wonder what took them so long.
Over the course of three hours of Mr. Luhrmann's photographing every angle of the country he loves, what has happened to the famous Aussie wildlife? One small group of kangaroos are shown hopping along beside a moving vehicle, and not nearly enough extras get eaten by crocodiles. In fact, there is only one crocodile in the whole movie. In the good old days, Australia might have worked at half the length with Tyrone Power and Susan Hayward, but Mr. Luhrmann takes a soft-shoe approach to old-fashioned formulaic Hollywood sagebrush sagas, staging the whole thing like a musical. As a kitschy, bloated, cornball retread of Camille and the Belle Epoch with songs by Madonna, the ghastly Moulin Rouge! was the closest thing I've seen to a filmed nervous breakdown. Australia is a sloppily constructed, over-the-top, hysterically overwrought soap opera, laced with Aboriginal mysticism and overwhelmed by nonstop music that telegraphs and underscores every emotion before it happens. In one long, pointless and embarrassing scene, Nicole Kidman is forced to explain the plot of The Wizard of Oz to the native boy, massacring "Over the Rainbow" in the process. Later, the song by Harold Arlen and E. Y. Harburg is sung by Judy Garland, which demonstrates Mr. Luhrmann's weakness for using someone else's talents to milk the emotions of a completely new and different audience. By the time the boy whistles the song again from his "walkabout" in the desert and everyone back at the ranch hears it, the same audience was laughing out loud.
They call this director a visionary, but his visions are all the visions of other people. The cattle drive is right out of dozens of Hollywood westerns. The stampede is right out of Red River. The evacuation of Darwin during the Japanese invasion is stolen, almost angle for angle, from the evacuation of Shanghai in Steven Spielberg's Empire of the Sun. What Mr. Luhrmann does well—panoramic views, red filters to make dirt look "arty"—makes you appreciate even more the genius of Howard Hawks, who would have saved the overpowering music for the cattle stampede instead of orchestrating every line of dialogue with it. This director's true nature is an obsession with other people's movies without much talent for dramatizing them with a fresh perspective. The results are homages of rambling chaos, like ships coasting through fog on automatic pilot. I've been to Australia the country twice, but I never saw anything as insipid and monotonous there as Australia the movie.
rreed@observer.com