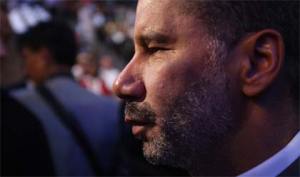 ALBANY—David Paterson, who has been sounding a fiscal alarm and has trimmed billions of dollars to narrow a budget debt of still billions more, presented details on more proposed cuts today.
"We thought we had created a cushion that would last us through the rest of the year," Paterson said at a town hall meeting in Syracuse on Tuesday. "But we're in extreme situations."
Taking questions from the crowd of about 500, Paterson didn't get too specific when asked about certain cuts. He told one student that cuts to either the Tuition Assistance Program or a tuition hike for students at S.U.N.Y. campuses were not off the table, but said that he would try to postpone them through the academic year.
Later, an AIDS treatment provider grilled the governor, but he would not yield.
"I know these are painful," he said. "Everyone who gets up here will be right. He will have pain if we cut any of those areas."
Governor Paterson said earlier this week that he would not rule out cuts to education and health care – despite Majority Leader Dean Skelos's stated opposition and the fact that hospitals have already absorbed cuts this year – and that he would seek to re-open union contracts to avoid layoffs. Lawmakers did not take Paterson up on an invitation to submit their own plan for cuts.
A coalition of affected groups will gather at noon to make the case that Paterson cut less than the $2 billion state target, drawing instead upon an emergency fund.
"He's doing this entirely from an accounting ledger perspective – he's not taking the economic impact of his cuts into consideration," said Frank Mauro, a liberal economist who is executive director of the Fiscal Policy Institute. Mauro said that Paterson should restrict his actions to the $1.5 billion deficit and use $1.039 billion from the tax stabilization reserve fund.
That would bring the number to $500 million; certainly more manageable, but still a formidable gap. Mauro was short on specifics for what could, or should, be cut.
Whatever is proposed will be considered during a special session called for next week.