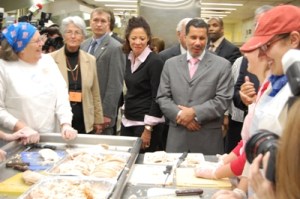 ALBANY—This may go on even longer than expected.
Earlier today, David Paterson said he will likely wait until Hillary Clinton is confirmed by the U.S. Senate as secretary of state before naming a successor to her Senate seat.
"My first thought was that I wanted to get this over quickly enough," Paterson said. "But I'm beginning to think that three things have to happen. One is that the president has to make a selection. Two is that our senator accepts the nomination. And then the third thing is, she's not like a senator that has left office, the senator is still in office and has to go through a process in order to be confirmed. I am reconsidering whether or not I should interfere with that magical process and name a successor, which is almost like forcing a process when perhaps I should just let it work itself out and make a selection then."
Paterson spoke at an event where he thanked some 3,000 men and women volunteering at the 39th Equinox Thanksgiving Day Community Dinner.