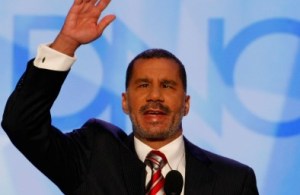 The mood at the midtown Sheraton for New York Democrats last night: Jubilation.
First came the call by the national networks that Obama had won the presidency. Minutes later, with the crowd still breaking into Obama chants, and with some faces still moist from tears, Governor Paterson took the microphone in the ballroom after an uncharacteristically loud and excited Assembly Speaker Sheldon Silver introduced him and announced to the packed audience of elected officials and party loyalists another historic shift.
"Some breaking news," he declared. "The New York State Senate is now under Democratic leadership."
More wild cheering.
Assuming the official results are consistent, for the first time in four decades, Democrats will control the State Senate, owning both chambers in the legislature and the governors mansion.
Senator Malcolm Smith, presumptive majority leader-to-be, pledged to work across party lines. "Tonight you get some rest, and tomorrow, New York State, we got to work," he said. "This will be a bipartisan effort … Democrats, Republicans, Conservatives; Independents."
And with that, the music ('New York, New York') began to play, and the New York State Democrats' night had ended in what is the earliest presidential victory in recent memory.