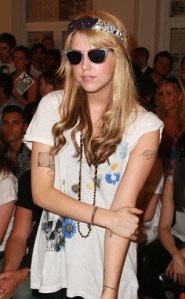 British socialite and Nylon magazine columnist Peaches Geldof has unveiled her 10-piece capsule collection for the label PPQ that, according to yesterday's Women's Wear Daily, is made up of "chiffon, velvet and lace dresses with a Gothic edge." (The collection does not appear to include decorative headbands.)
The Williamsburg-based Ms. Geldof told WWD that the collaboration came about through a guy she dated (before she married Harvard grad/musician Max Drummey) who was signed to PPQ designers Percy Parker's and Amy Molyneux's music label, 1234. The socialite says the designs are heavy in lace and include capes (!!) inspired by the novel Dracula, which she recently read. 
When the Daily Transom contacted Ms. Geldof in September, after she relocated to New York and made a debut at Fashion Week, the socialite explained a few things about the way she dresses.
"I would describe my look as heavily influenced by past eras. I'll have days when I'll wake up and want to go sixties folk like Pamela Des Barres, or wear a shift and huge earrings like Edie Sedgwick, or wear an oversized shirt and black tights like Patti Smith," Ms. Geldof told the Daily Transom. "Music influences me too, I'd like to say my overall look is Grunge Goth–a mix of Kurt Cobain and Courtney Love with some Siouxsie Sioux and Bauhaus thrown in. I love plaid shirts over black lace Victoriana dresses."
She went on: "I think my clothes say a lot about my personality. You'll never catch me in old jeans and a polo shirt. I love dressing up. Vivienne Westwood once told me that people who don't dress up are people who don't have fun with life."
According to WWD, Ms. Geldof expects the project to span at least several seasons and is already hard at work on her spring collection, which will hopefully give her a chance to exercise some of that sartorial muscle.
But Ms. Geldof should be careful. In this economy, fashion lines seem to be folding daily–just two days ago, Holly Dunlap's Hollywould line was announced to be for sale and Tara Subkoff's former collection Imitation of Christ has been killed altogether. Hopefully Ms. Geldof's goth capes and Victorian lace can survive the recession.