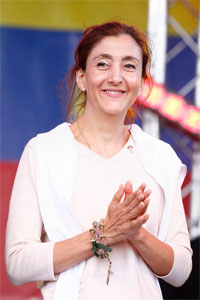 The Penguin Press has acquired U.S rights to a memoir by Íngrid Betancourt, the French-Colombian politician who was kidnapped while running for president of Colombia in 2002 and held captive for more than six years. Ms. Betancourt, who enjoys particular celebrity in France because she spent much of her life there before entering Colombian politics, was represented by the Paris-based agent Susanna Lea.
After submitting the project to a select group of editors at the Frankfurt Book Fair last month, Ms. Lea, who also counts among her clients the activist Ayaan Hirsi Ali, is said to have secured an advance worth $1 million.
Ann Godoff, the publisher of Penguin Press, could not be reached for comment. A publicist for Penguin Press declined to comment or to confirm or deny the advance.