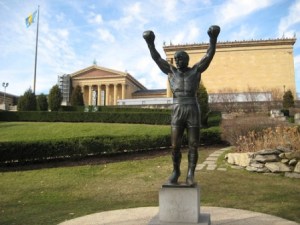 It appears the national housing slump has thoroughly caught up to the city of Rocky and the Word Series Champion Philies. Home sales and prices declined in 2008, according to a comprehensive market report (PDF here) published by Wharton economist Kevin Gillen, and it's not likely either will rebound soon.
The report includes data through the second quarter of 2008 that ended June 30, and found that median home prices had declined by 6.6 percent since the second quarter of 2007.
Homes sales dropped from over 11,000 in the first half of 2007 to under 9,000 in the first half of this year and fell from just over 6,000 in the second quarter of 2007 to about 4,500 in the same time this year (exact numbers are unavailable). As the report notes, the decrease in sales activity coincides with high inventory rates that have yet to fall from their boom-year highs. As a result the percentage of sold listed homes has dropped from about 25 percent in 2004 to under 10 percent in the most recent quarter. It's no surprise, then, that it takes about 65 days on average for a home to clear the market.
Philly still remains a much more attractive (read: cheaper) alternative to New York City. The median home price in Philadelphia was just over $100,000 in the second quarter, according to Mr. Gillen's report. In contrast, the respective third quarter median sales prices in Mahattan, Brooklyn and Queens were $928,263, $510,000 and $400,000, according to figures from appraisal firm Miller Samuel.
Here at The Observer we've been chronicling the exodus of New Yorkers moving to Philadelphia, and it will be interesting to see if this significant price gap continues to lure some people away.
In a coauthored analysis written for the watch-dog website Hallwatch.org, Mr. Gillen wrote the following:
Where all of these trends go from here would seem to be driven by the national economy. The modest price corrections experienced by Philadelphia's housing market plus continued strength in its rental market would seem to indicate that current house prices are approximately in line with their long-term fundamentals. However, a severe contraction in the national economy could mean both higher unemployment and tighter credit conditions for both buyers and sellers. Both factors would continue to exert additional downward pressure on house prices beyond what local conditions would seem to be able to resist.
(Hat tip: Matrix).