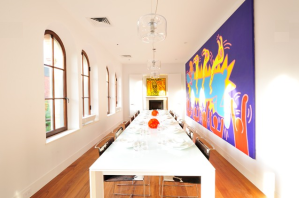 Two months back, when this reporter visited 11 Spring Street, Corcoran's Robby Browne was listing the 19th-century horse stables for $39.8 million.
(Actually, the 4,600-square-foot penthouse cost $17.95 million, the triplex downstairs was $15.15 million, and a flat in between, where this reporter saw his first-ever dual-flush toilet, cost $6.7 million–thus the $39.8 million total.)
But, according to a new listing, things have changed. Mr. Browne, one of the only uber-powerful New York real estate brokers who happens to be genuinely charming, seems to have lost the townhouse. Instead, Core has a new $36.5 million listing, a $3.3 million price cut. (Never mind that Caroline Cummings, a real estate heiress in her late 20s, paid only $12 million two years ago to buy the place from Rupert Murdoch's son Lachlan.)
Oddly, we got an email announcing that 11 Spring hosted an event last night for the "super high-end demographic"–an unveiling of The Tesla Roadster, an "all-electric supercar." We've desperately asked for pictures of the supercar/super-townhouse affair, but haven't heard back.