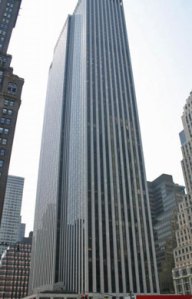 The General Motors Building is just the beginning, according to the real estate head of the Qatar Investment Authority, who told Bloomberg News that the sovereign fund plans to buy up many more distressed real estate assets in the coming years.
"We are looking for prime properties in major cities at distressed prices," Navid Chamdia, the authority's real estate head, told Bloomberg. "We will continue to invest in attractive assets we are comfortable with."
The Qatari fund was a big backer of Boston Properties' purchase of New York's most promiment trophy building earlier this year for a record-setting sum of $2.8 billion. The fund also joined Boston Properties in its purchase of three other Manhattan assets once belonging to Harry Macklowe.
Mr. Chamdia didn't indicate precisely where he will be looking to invest some of the fund's more than $60 billion in state funds:
Chamdia pointed to Lehman Brothers Holdings Inc., which filed for bankruptcy on Sept. 15 and has about $30 billion worth of real estate assets, and American International Group Inc., the insurer that received a bailout from the U.S. government and may sell some of its $16 billion in global real estate holdings. He wouldn't say whether the Qatari fund would target those two companies.