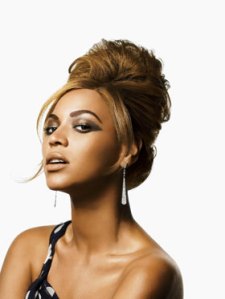 On a recent sunny autumn afternoon, Beyoncé Knowles—singer, actress, full-time superstar—was sitting coiled on a sofa in the penthouse suite of the Soho Grand hotel. The "hottest chick in the game" (as she is referred to in verse by her longtime paramour, Jay-Z) looked young, fresh-faced and wholly honey-hued, with minimal makeup and her dark golden hair long and curly down her back.
When she's onstage, no one owns it quite like the 27-year-old Ms. B: She stalks and struts and uh-ohs-uh-ohs those famous hips, belting the big stomach-clenching notes out of the park. In person, however she couldn't be less of a diva. Friendly and quick to laugh, she happily showed off brand-new Alexander McQueen black button ankle boots that she had purchased the day before, then turned around and picked up her hair so a reporter could check the label (also McQueen) on her fitted black denim frock coat. She wore it over a plain James Perse white T-shirt ("my uniform," she said, "seriously, I have like 50 of them") and black leather leggings.
Beyoncé has loved fashion since childhood, thanks to her mother, Tina Knowles, who owned a hair salon. "I looked at her like a therapist and a makeover queen—­the perfect glamorous smart woman," said the young star. "People would walk in, talk to her and tell her their issues and they'd walk out feeling and looking like a new woman."
Tina taught her daughter the importance of being creative; how you didn't necessarily need a lot of money to make style statements. "She'd get us little jackets and we'd go to an art supply store and we'd get stones and glitter and we'd personalize a lot of our clothes," Beyoncé said. "I look at some of the pictures and I'm completely mortified. But she taught me the importance of looking good and feeling good but also that beauty comes from within. Because it fades."
Tina Knowles and Beyoncé started a ready-to-wear women's line, House of Deréon, in 2005 and are introducing a new jewelry line in early 2009. "I'm an accessories queen," said the younger woman. "I collect a lot of vintage jewelry—a lot of vintage Chanel. I love it because you know no one else has it. Sometimes I don't even wear it—I just like to look at it."
Beyoncé started shopping in vintage stores as a teenager growing up in Houston and is still drawn to the classic lines of an earlier, less confusing era. "I will love always the cut from 1940s," she said. "Because I'm a curvy woman, that's the best silhouette on my body." She admires but avoids the trends that she knows won't flatter her figure, like the loose and flowing bohemian dress that engulfed Manhattan last summer. "It would swallow me and I'll look heavier," she said. "There are certain things I can do, but I have to show my waistline and stick to things that look good on my body. I know what looks good on me and I think that's half the battle."
The next few months will be hectic for busy B.—her third album, I Am … Sasha Fierce, will be released this month, followed by a return to the big screen in December with Cadillac Records. In it she'll play the legendary blues singer Etta James—"the first African-American woman to cross over," Beyoncé said reverently, "I wouldn't even have a chance"—just a few years after portraying a Diana Ross doppelgänger in Dreamgirls.
The new movie, which affirms James' influence on popular white singers of her day, co-stars Adrien Brody and Jeffrey Wright. "It was the most challenging and rewarding film I've ever been a part of," Beyoncé said. Not that there wasn't some initial hesitance. "I was like, can I do this? Am I ready for this? People are already so critical of singers becoming actors."
She was inspired in part, she said, by Ross as Billie Holiday in 1972's Lady Sings the Blues ("one of my favorite performances")—and, of course, by James herself. "She was so fearless and bold. She was always Etta," Beyoncé said. "She didn't care or try to conform to what people thought she should be. It actually gave me the strength to take more risks for my record."
I Am … Sasha Fierce, which includes the singles "Single Ladies (Put a Ring On It)" and "If I Were a Boy," takes the singer in new directions. "I've always challenged myself, but that fear I had—that anxiety I had when I started the movie—I knew it was time for me to take that chance with my music," Beyoncé said. "I've done so many things, I've accomplished so many things, I've been really, really blessed. But, there comes a a time when artistically you're bored and you want to show that there's more to you than what people expect."
PHOTOGRAPH: Robert Erdman
STYLIST: Freddie Leiba
Hair by Kimberly Kimball;
Makeup by Francesca Tolot;
Manicure by Lisa Logan