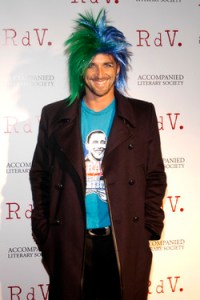 At the Accompanied Literary Society's Halloween night masquerade party, Mary-Kate Olsen looked like an ethereal fairy in a long white down with dusted-on silver eye make-up. She was there to view a recently unearthed Edgar Allen Poe manuscript, Lady Irene, which was on display in front of a DJ booth occupied by model Le Call and actor Leo Fitzpatrick. The poem, written in 1830 and found in rural Virginia, will be sold in New York next month by Bloomsbury Auctions. In the meantime, the auction house lent it to Accompanied Literary Society founder Brooke Geahan for one of her high profile "Literati" parties. And so Ms. Geahan had invited actor Josh Lucas to read the poem for the assembled guests.
"Mary-Kate is an Edgar Allen Poe girl. She's a fan," said Ms. Geahan. "She's a little annoyed at Josh right now because he's not going to read it until midnight and she wants to hear it now. She's like, 'We waited since 1830, we want to hear it now!" (It was 10:30 p.m.)
To celebrate the poet, the attractive Ms. Geahan was dressed up as a raven.
"I couldn't find a good costume online so I used arts and crafts to make this last night," the hostess told the Daily Transom, showing off her slim-fitted black outfit, feathery black wings, and a bejeweled crow feather hat. "It took about six hours. I went to this place called Feather Palace on 38th Street and I got the crystals for the cap from a place called Bead World. I'm just hoping it all stays together!"
Ms. Geahan's doppelganger–a male guest wearing a cardboard Brooke Geahan mask–opened up his shirt, Superman style, to reveal a pair of perfect cardboard breasts. The hostess seemed flattered by the gesture, if a tad unnerved.
Ms. Geahan's literary get-togethers often combine polished celebrities and scruffy-looking authors (Jonathan Ames is a frequent guest) in one room, though the Daily Transom spotted few of the latter. But there was actor David Schwimmer without a costume; a young gentleman dressed as the late David Foster Wallace's novel, Infinite Jest; and socialite Arden Wohl wearing a long flapper-like red and black dress, puffing on a retro cigarette holder.
"I love Halloween! It's a whisper of the winter to come and it's a good time to celebrate the manuscript from a man who understood what it's like to be an artist," said Ms. Wohl. "I am a big Poe fan. My best friend grew up on 85th Street, which is right by where Edgar Allen Poe used to live."
Mr. Lucas, for his part, dressed up as his own modernized interpretation of the 19th century poet, in a bright green wig of spiky hair and a Barack Obama T-shirt.
"I'm the ghost of the future Edgar Allen Poe and he's a huge Obama supporter," said Mr. Lucas. "I spent seven fucking hours reading this thing the other night trying to figure out how to say it right," said the actor. "It is just so amazing and so complex, and deep, and powerful. He's talking about architecture, he's talking about beauty, he's talking about heartbreaking madness, he's talking about a young woman in a casket-it's incredible. I had a coach help me, someone who knows everything there is to know about Poe, and he was like, 'no, no, no, no, no!' To the point that after seven hours he just got angry and left."
When Mr. Lucas began reading, it took four "shut the fuck up"s from Ms. Geahan to get the rowdy guests to quiet down. (Ms. Olsen seemed to have departed early with Mr. Fitzpatrick.) One guest whispered, "I wonder what Edgar Allen Poe would think about this scene." But he was swiftly instructed by a fellow guest to forget about it.
"He's been dead for over 100 years," whispered the guest. "Who cares? Don't even think about it."