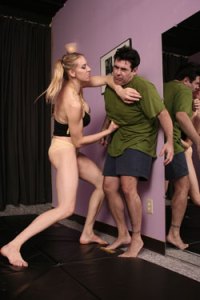 On the day after Halloween, a Saturday, dusk settled over the city like a mask. On a side street in Murray Hill, a procession of Orthodox Jews filed past a low-rise building to a nearby synagogue.
As one man, wearing a black hat and trench coat, headed in for evening services, Maxine T. whispered, "This guy looks like a wrestling client." He wasn't overly impressive physically, but she suggested he could be unexpectedly tough, or "farm strong," as they say in Iowa.
"Young guys burn themselves out really early," she said. "Old guys know to pace themselves. They wrestle smarter, not harder."
Maxine would know.
Within that low-rise building, beyond drawn blinds, is a one-bedroom apartment that doubles as the largest female wrestling club in New York City, known as Tempest. Inside there is a bare hallway, a bedroom-turned-office and an emptied-out living room lined with blue gym mats. There, men pay $300 an hour for a chance to wrestle—or do role play—with Maxine or one of the club's other workers.
"It's a strange little niche of the sex industry/fetish scene," Maxine said. Session wrestling, as it's called, is largely a freelance business, with the majority of matches taking place in private homes or hotel rooms. Tempest, meanwhile, acts as a repository of wrestlers, offering clients a range of personnel, from lightweight petites to imposing Amazons like Maxine, who is tall with closely cropped hair and maintains a fighter's build. On the Tempest Web site, men wondering "What do I wear?" are told, "You can wear a bathing suit, boxer shorts or something of that nature."
Maxine, 33, has been one of Tempest's most competitive wrestlers since joining the club in 2001, shortly after arriving here from Iowa. She is trained in jiujitsu and boxing, and tends to attract more extreme clients, those looking for competitive, athletic experiences—like those in a varsity wrestling club, minus the referee—or heavier, fetishistic scenarios, some so contrived they would make Vince McMahon blush. But the only real limit of what's possible is a man's imagination.
"The weirder they are, the more interesting," said Maxine, who double-majored at the University of Iowa in journalism and sexuality and gender studies.
The club's Web site features photos of many of the wrestlers, most of whom would be hard to distinguish from any number of young attractive New York women on your morning subway ride or looking for love on match.com. Some stand out in other ways: Quinn, the site notes, is 6-foot-5 and specializes in "all Giantess fantasies!" Or there's Layla, who will " trash talk you as she wrestles you to the ground, then smile down at you as she gets you into her fierce 'Grapevine' hold!" Stella, a 5-foot-7 blonde ("You may have noticed that she bears a striking resemblance to Jessica Simpson…"), includes SPLOSH—in which clients douse her in chocolate syrup, milk, honey, whipped cream and so forth—in her repertoire. Another tough cookie is Severa, "the most incredible Amazon New York City has ever seen!… she towers over all men and women, and inspires awe in those lucky enough to behold her in person… She has the most beautiful size 13 feet that you have ever seen…She also specializes in belly punching and ball busting." And if your tastes are more slapstick, Ginger offers a "pie throwing" session.
A brief sampling of Maxine's past clients reveals a sprawling landscape of desire: There was the Argentine businessman who asked to be used as a piece of furniture; the epidemiologist who requested to be punched repeatedly in the rear end after 45 minutes of boxing; and Jeff, a junior trader at Bear Stearns, who enjoyed speed bondage, in which he was hogtied spontaneously mid-session.