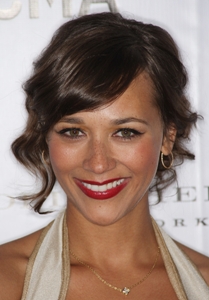 We've had a number of problems with the path The Office has taken over the course of the past two seasons. Nearly everything, from making Michael into a clownish cartoon character to the totally stillborn love triangle between Dwight, Angela and Andy (a story arc that just stinks of time filler), has felt wide of the mark that was hit so routinely during the halcyon days of seasons two and three. However if you wanted to pinpoint the exact moment when we think the show started losing its considerable steam, look no further than the exit of Rashida Jones' Karen Filippelli. As Karen, Ms. Jones was smart, funny, endearing and utterly normal. It would have been very easy for her to be an unlikeable slag, stuck in the way of true love for Pam and Jim, but she was so good, she ended up flipping the script on its ear. In the end, we never thought Jim made the right decision. When faced with Pam and Karen, the clear choice would have to be Karen. But hey, love is blind, right?
So! Consider us incredibly excited by the news that Ms. Jones is finally/officially/set-in-stone returning to television in NBC's The Office spin-off-that-really-isn't-a-spin-off, starring Amy Poehler. Ms. Jones' name had been circling the Greg Daniels produced project since it was announced last year and it's good to see that she's finally signed on. The former Office star will be taking on the role of Ann Logan in the untitled show, a character described as "a nurse whose boyfriend has a strange injury". That injury leads Ann into the world populated by Ms. Poehler and comedian Aziz Ansari, who had also been previously announced as a cast member. Confused yet? While all this sounds incredibly vague and bizarre, it qualifies as the most information we've heard yet regarding the sit-com that, we repeat, isn't an Office spin-off. Ms. Jones said she'll most likely be filming starting in early 2009 and the series is expected to either debut in the Spring (a la the first season of The Office) or next Fall.
Whenever it debuts, the new show will already be on our must-watch list. In fact, the only way it could sound better was if Tina Fey came onboard as Ms. Poehler's sassy best friend. Is it possible NBC is finally doing something right?