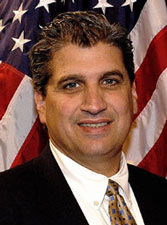 City Councilman Domenic Recchia, who helped lead Michael Bloomberg's effort to extend term limits, is now organizing to stop the mayor from rescinding the $400 property-tax rebate.
Here's Recchia's online petition–he's the first, and at the moment the only signature. The letter is short and to the point:
While we agree that tough decisions have to be made to meet the challenges of an economy in crisis, the $400 property tax rebate check is important to many struggling New Yorkers. We request that you eliminate your proposal to cancel the rebate.