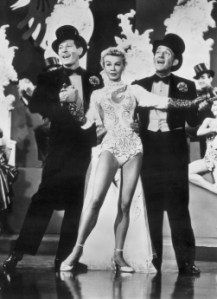 Because of the asinine way holiday movies are programmed, tomorrow night's probably your only chance to watch White Christmas (Lifetime, 9 p.m.). For anyone keeping count: that's forty-eight hours after Thanksgiving dinner, about sixteen days until a weather report predicts white snow or unseasonal warmth on Christmas morning, and twenty-six days before meteorologists are proven right or wrong. Fa Lala.
We've got a real soft spot for White Christmas. The movie's credentials, first off, are completely ridiculous: the director was Michael Curtiz, who did Casablanca, and the choreographer, an uncredited Bob Fosse. The music's all Irving Berlin and every VistaVisioned, Technicolored shot is as bright and lovely as a light on a tree.
And the cast: as army acquaintances who become big Broadway producers, there's Bing Crosby, avuncular but grumpier than Bogart, and Danny Kaye, inventive, cartoony, satyr-ic Danny Kaye. As the sister act for whom they give up their dignity and their holiday plans, there's Vera-Ellen, at a moment when her anorexia had gotten her to a 21-inch waist but before it had withered her into retirement; and there's Rosemary Clooney, with her wide-open face and crazy, giant voice.
Oh, the plot? An inn needs saving, so they save it. There's some matchmaking too, despite an absence of sexual tension all around. The end result, of course, is schmaltzy and sort of garbage and somewhere in the middle of a time-stretching ballet sequence, you'll realize that at 120 minutes the movie's maybe 60 minutes too long. But if you have functioning tear ducts and a heart that's not three sizes too small, you'll probably mist up once or twice.
Our favorite moment happens early on: Vera-Ellen, Rosemary Clooney, Danny Kaye, and Bing Crosby all wind up crammed in a club car booth on a night train from Florida to Vermont. They order a couple of sandwiches, and then spontaneously, in harmony, all of them, burst into song: "I'll soon be there with snow/I'll wash my hair with snow/And with a spade of snow/I'll build a man that's made of snow."
You can imagine their heartbreak and confusion when the the train pulls into the station and they find ski slopes as dry and warm as beaches. So the whole movie snow's all anyone thinks about, sings about, wishes for, worries about, dreams of, like it's the key to world peace or the cure for polio. Actually, at the end, when the cirrocumulus clouds finally blow in and the water droplets finally oblige to supercool and Christmas finally whitens, everything in the world is, just for a moment, all right.