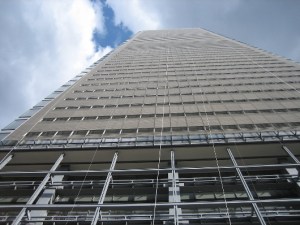 The Wall Street crash and nose-diving gas prices have taken the air out of some environmental initiatives lately—federal climate change legislation, for example, and a few big renewable energy projects.
But in New York City, by at least one metric, environmentalism is going strong: Driven by growing demand for eco-friendly living and working space, developers are forging full steam ahead on plans to obtain green certification for both commercial and residential projects.
Nationally, the amount of square footage certified under the United States Green Building Council's Leadership in Energy and Environmental Design program (LEED) has grown 62 percent this year to date over where it stood at the end of 2007. And while the New York chapter doesn't track numbers for the city itself, architects and developers say they can't think of anyone that has scaled back their green ambitions in recent months.
High-profile projects like One Bryant Park, HL23 in Chelsea and Time Equities' hotel/condo extravaganza 50 West Street are headlining the trend. Once a frippery reserved to the tree-hugging environmental stalwarts, the green stamp of approval has become a branding necessity, especially in the high-end market.
"No question, it's a prerequisite," said Dan Kaplan, a senior principal at FXFOWLE. In 2005, the architecture firm's New York Times Building at Eighth Avenue, developed by Forest City Ratner, became one of the city's first green skyscrapers. Although it didn't pursue LEED certification, doing so now is becoming more the norm than the exception.
"I would say green building as a general matter is recession-proof," said Russell Unger, president of the U.S. Green Building Council of New York.
In fact, Mr. Unger says, a slack real estate market can actually be a boost for green building, since developers need to compete to differentiate themselves from the competition, and long-term energy savings become more important when rents and sale prices drop. That's good news for the planet, since buildings are responsible for 80 percent of the city's carbon emissions.
A little over two weeks ago, Jeff Blau, president of development giant Related Companies, said at an awards ceremony for the Green Building Council that his company was committed to "building green exclusively."
"In this difficult economic environment," Mr. Blau said in prepared remarks, "we all need to be more vigilant then ever to reinforce our commitment to the cause."
WHAT'S THE EXTRA COST associated with building green, anyway? It's hard to tell exactly, since there's still so little data. Those in the industry are hesitant to compare the effects of this recession with the last big downturn—the one directly following the dot-com bust and September 11—because green building barely existed.
The last comprehensive study on the additional cost of constructing a building to LEED standards was released in 2004, and it found only marginal increases for most locations around the country. Another New York-specific one is due out this fall.
In terms of premiums, a CoStar report released in March found that LEED-certified commercial office buildings sell for 67 percent more and command 36 percent higher rent than non-certified buildings—but the study was criticized for having too small of a sample pool for accurate results.
Overall, though, sustainability in buildings is a "macro-trend," Mr. Kaplan of FXFOWLE said. His firm was responsible for designing the first voluntarily green sustainable high-rise residential building in New York. The Helena, developed by the Durst Organization and completed in 2005, cost 3 to 5 percent more than a traditional building.
"I think the sentiment is that the smarter money, or people who have cash, are going to understand that the next year to 18 months is a time to take advantage of slower times—construction costs will be less," Mr. Kaplan said. "People know this is the time to plan and get your ducks in a row."
David Kramer, a principal at developer Hudson Companies, said his younger staff especially are all adamant that their projects be green. Three out of the developer's four new projects are going for LEED certification – Emerson Place, the Knickerbocker, and 3rd & Bond, all Brooklyn condos – and developers aren't going to pull back on those commitments just to save on construction costs.
"You can't make strategic decisions when the Dow falls 500 points in a day," Mr. Kramer said. "It's not going to be something a developer is going to throw out with the bathwater."
Green construction on a smaller scale seems to be booming as well, if activity in the aisles at Brooklyn-based environmental supply company Green Depot are any indication. General manager Jim Holiber says the company saw record sales in October.
"Parents will still spend money on stuff for their kids, and making their homes a healthy environment," said Mr. Holiber, who estimates that a house built with all green materials should only cost about 5 to 6 percent more than a conventional building. "Knock on wood, but we're really doing well."
NEVERTHELESS, IT'S STILL A down economy, and LEED spaces haven't been selling any better than the rest of the market. SJP Properties' 11 Times Square, the first green building in New York City built on spec, has yet to sign a tenant, and showpieces like Larry Silverstein's LEED Gold-certified 7 World Trade have also had problems leasing space.
But, according to Stephen Del Percio, a specialist in green building law who tracks the market on a blog called GreenBuildingsNYC, shareholder-driven corporate sustainability policies have become the standard among Fortune 500 companies and are fueling green construction.
"Every [new] commercial building is going to at least apply for LEED certification," Mr. Del Percio said. "And I don't think the credit crisis is really going to affect the commercial market."
On the residential side, the downturn has hit hardest in the high end of the market—and green certification still tends to be a luxury phenomenon. One of its closest watchers is Ronin Trigoli, who started the niche brokerage GreenHomesNYC after a 15-year career in the real estate business. He said that developers of green buildings have started to drop their prices between 5 and 15 percent just to move apartments, but that he can't see much of a difference between the market for green and non-green units.
Meanwhile, customers have been asking for the lower-end units, which are less plentiful but steadily becoming available. And Mr. Trigoli says the city is uniquely adapted for this kind of change.
"I'm a smoker, I don't like to say it, but I am," he explained. "Five years ago, when the big law came in, I said no way, not in New York City. And now I can't even think to smoke a cigarette in a bar."
"New York, it's gonna turn on green faster than anywhere in the world."