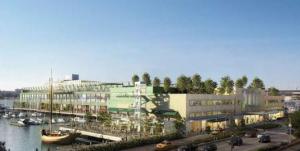 The proposals to redevelop Pier 57 on Hudson River Park have been released, and it seems like rent-paying marketplace is the common theme for the pier off West 15th Street.
The Related Companies, West Village-based YoungWoo & Associates, and the Durst Organization/C&K Properties are the three suitors, each trying to impress the city/state Hudson River Park Trust. All three teams put forward a plan with outdoor open space and a large amount of market-retail space (two of the teams mentioned Seattle's Pike Place as a corollary).
This is the second go-round for the Trust, which awarded the development rights for the pier back in 2005 to the Witkoff Group. That team dropped out in 2006 once its anchor, Cipriani's, bailed.
Check out all the detailed proposals—save the financials, which the Trust keeps in secret—at the Trust's Web site.
Here's some highlights.
Steve Ross' Related Companies, fresh off defeat on its proposed entertainment Mecca at Pier 40, wants for its $353 million proposal:
A 53,000-square-foot "Pier 57 Market" retail/food hall where "

cheese mongers, fishmongers, and locally grown produce will offer sustainably grown choices for shoppers."
30,000 square feet for restaurants
A 63,000-square-foot cinema for both independent and mainstream films (YoungWoo snatched up the Tribeca Film festival as a tenant, which was part of Related's Pier 40 proposal, but the Times said Related has interest from Sundance).
75,000 square feet of event space
A 19,000-square-foot pool deck on the rooftop
112,000 square feet of robotically operated parking (which the firm also cites as an educational opportunity for youngsters)
The Durst/C&K team (above) has a similar concept for its $400 million project (an amount that includes what tenants are expected to spend), saying in the proposal that the pier will become a must-see spot: "We believe that our plan for Pier 57 will create a place that is on any tourist's short list of must-see destinations in NYC, as well as any New Yorker's short list of places to meet friends and spend an afternoon, right alongside Central Park, Union Square or Rockefeller Center."
Also included:
A destination rooftop, dubbed "Hudson Gardens @ Pier 57," that the team likens to Tivoli Gardens in Copenhagen.

"It is envisioned as a place of wonder and amusement, to be re-visited and enjoyed time after time," the plan says.
143,000 square feet of retail
A 62,400-square-foot space for the Children's Museum of Manhattan, which is based on the Upper West Side
35,100 square feet of event space
34,900 square feet of leasable open space
A 51,600-square-foot restaurant/music hub
185,000 square feet of open space, though that number includes 100,000 square feet in the basement and the 34,900 square feet of leasable space.
The substantially smaller YoungWoo & Associates plans a $191 million development with two main anchors, the Tribeca Film Festival and a cultural center by Phillips de Pury & Company.
"The Contemporary Cultural Center will feature open galleries, fine art auctions, and musical performances, and will mark visitors' arrival to West Chelsea from the south," the plan says.
The plan sets the roof mostly as open space, with an amphitheater for Tribeca.
The plan calls for "Underwater Discovery" at the western end of the building, "an educational center concerned with the Hudson River Estuary and maritime history in New York."

The team says it has financing commitments.