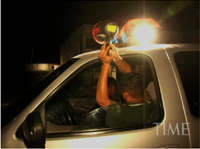 This is like something straight out of a Don DeLillo novel. According to video report on Time Magazine's Web site, middle class Mexicans are paying to roleplay crossing the U.S. border illegally.
According to Ioan Grillo, who filed the night-vision green report from Parque Alberto, Mexico for the magazine's Web site, "A group of returning migrants have made their experience of dodging sirens, trekking over deserts, and wading through rivers into a kind of extreme sport."
The slightly-longer than 4-minute video, which feels like an episode of Cops meets The Blair Witch Project (en español, naturalmente) is worth watching to see one participant saying with a straight face, "To become part of this, to be like a migrant, and to take part in a performance seems like a lot fun. Above all, because it is at night."
In some ways this "fun" calls to mind Extreme Kidnapping a company whose self-described "Custom Kidnapping Adventure Scenarios" were briefly the subject of a spate of press in 2003.
We sort of can't wait 'till Time corporate cousin Lou Dobbs gets ahold of this story.