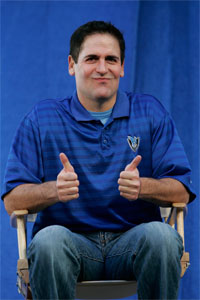 Kara Scannell of The Wall Street Journal is reporting that the Securities and Exchange Commission has filed charges on insider trading against Mark Cuban, owner of the Dallas Mavericks and founder of HDNet, which is home to Dan Rather.
According to Ms. Scannell's report:
The SEC alleges in a civil action that Mr. Cuban sold his entire 6% ownership stake on June 28, 2004, after learning that Mamma.com was raising money through a private investment in a public entity, or PIPE. The next day, on June 29, the company announced the PIPE financing and shares of the company dropped by more than 10%. By selling his stake, the SEC alleges, Mr. Cuban avoided more than $750,000 in losses.
Not that it means anything to the case, but the latest entry to Mr. Cuban's 'Blog Maverick' personal site is headlined I Hate to Lose.
As Wired News' Chris Snyder points out in a follow-up to the WSJ news, "Among his various ventures Cuban is also the majority partner of sharesleuth.com, which purports to expose securities fraud."