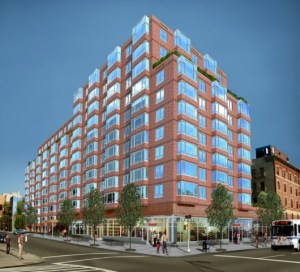 On Tuesday, Jonathan Rose Companies broke ground on the first affordable housing and mixed-income apartment building in East Harlem developed to LEED Silver standards. Called Tapestry, the 12-story, 185-unit building, with 8,000 square feet of ground-floor retail, will rise at 124th Street and Second Avenue, at the base of what's becoming today officially the Robert F. Kennedy Bridge.
The Observer sat down wih Jonathan Rose in September of 2007 to talk about green development.
"I don't think the green movement is seen as being crunchy granola and wearing Birkenstocks," Mr. Rose said then. "I think the green movement is taken seriously in the investment world."
We'll see. It's an auspicious time to be building rentals, even in Manhattan, given the softening demand birthed by the awful economy. But, in 18 months, things may be a lot different for a finished Tapestry. Besides, green's hot among local developers!