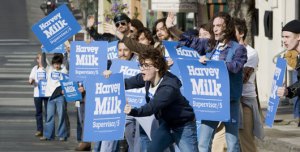 How does Sean Penn do it? We've seen the man disappear into roles before: the twitchy, frizzy-haired lawyer in Carlito's Way; death row inmate Matthew Poncelet in Dead Man Walking; a vengeful, grieving father with a Massholeriffic accent in Mystic River. But none of these could prepare you for the transformation he has undergone in Milk. Playing San Francisco gay activist Harvey Milk, Mr. Penn exudes an easy warmth and light and charm with a never-before-seen megawatt smile.
Harvey Milk's story in an incredible one, and needs little Hollywood gussying up. Accordingly, director Gus Van Sant (hey, nice Entourage cameo this week!) tells the story straightforwardly and without any of the dreamy languidness that we've seen in his recent work like Elephant and Paranoid Park. Milk was turning 40, living in New York, deeply unhappy and feeling that he had yet to accomplish anything. On the eve of his birthday, he picked up a young man named Scott Smith (a wonderfully sweet James Franco) and decided to change his life completely; he moved to San Francisco, opened a camera shop in the burgeoning Castro neighborhood, became the unofficial mayor of his community, ran repeatedly for office and eventually was the first openly gay man elected to public office, in 1978. Eleven months later, Milk, along with mayor George Moscone (Victor Garber), was assassinated by city supervisor Dan White (Josh Brolin), who used the 'Twinkie Defense' (i.e., it was his junk food diet that made him snap) and got a reduced sentence, a decision that inspired the famed White Night riots.
It's not easy to make movies, let alone good ones, about people like Harvey Milk, who quite rightly have become icons. And for the most part, Milk succeeds in not just telling an important story, but a poignant and affecting one as well. In scenes with Mr. Franco—and the group of supporters who started to hang around him (including bright spots Emile Hirsch and Alison Pill)—Mr. Penn displays a real tenderness, though that affection gets lost in the shuffle once Harvey's political aspirations take over (perhaps the filmmaker's point). Josh Brolin, seen so recently as George Bush in W., is another kind of chameleon, and some of his scenes with Mr. Penn are among the very best. Mr. Van Sant interweaves real news footage—of men being rounded up like criminals in gay bars and of Anita Bryant (who compares homosexuality to prostitution and thievery!)—that is particularly well placed. Of course, Mr. Van Sant and his crew couldn't have known while they were making this film that it would be released in a month when gay marriage was banned in California, or that a black man would be elected president on a platform of hope, but both of these coups will resonate as you watch this film.
Milk opens today at Loews Village 7.