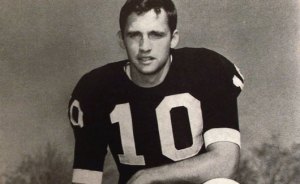 Forty years ago, on a chilly afternoon in November, the Harvard and Yale football teams met at Harvard Stadium to play their final game of the season. For the first time since 1909 both schools were undefeated, and when the game was all over it was an instant classic, a thing of collegiate and sports lore. Sitting up in the stands that day in 1968 was undergraduate Kevin Rafferty, who would grow up to become a filmmaker (Blood in the Face, The Atomic Café) and now has made a documentary about the historic game, Harvard Beats Yale 29-29 (the title was a Harvard Crimson headline).
It's kind of amazing that a film about a sports game where the final score is in the title could be so suspenseful, but Mr. Rafferty manages to pull it off. This is due in part to the film being not just about football, but about the players on both teams. It's quite a bunch of characters: There's Tommy Lee Jones (Harvard lineman and Al Gore roommate—he shows up bearded and particularly droll); future NFL Hall of Famer Calvin Hill (Yale); Brian Dowling, Yale captain, and immortalized as "B.D." in his classmate Garry Trudeau's Doonesbury strip; and other men now in middle age who have no problem recalling in precise detail every snap, pass and fumble. Going into the game, Harvard was the underdog, and right up until the final minutes the Cambridge team was behind 29-13 … only to pull off an upset that ended with a field flooded with fans, trying to rip arm pads off the players, hoping for souvenirs. Mr. Rafferty has great footage of the game itself, with the original commentary by Don Glilli; he splices it with the players' testimonies to make a compelling and complete narrative.
There's something that stays impossibly old-fashioned about the Ivy League: In the stands, men wore overcoats and hats; the Yale cheerleaders had funny little outfits and their idea of taunting was to have their band play the Mickey Mouse theme song (the Harvard coach warned the boys not to engage in "fisticuffs"). But at the same time, one of the Harvard players had just come back from Vietnam, totally shaken by the carnage he had witnessed, while many other players were actively involved in protesting the war. But, as they all make clear in the film, none of it mattered when it came to football. And wow, do they all care about football! While many of the men make a point of stating that they realized this was just a game, so, too, is it clear that those moments out on the field have stayed with them forever. There is something incredibly endearing (and a little bittersweet) to see the young boys in the footage turn into balding and paunchy men who seem as disturbed by a controversial face-mask call as they were 40 years ago. But in the end, Harvard Beats Yale 29-29 should be easily accessible for everyone—even those who didn't attend an Ivy or who couldn't give a hoot about football. We dare anyone not to get excited as those last 90 seconds on the scoreboard clock start to tick down.
Harvard Beats Yale 29-29 plays at Film Forum through Dec. 2.