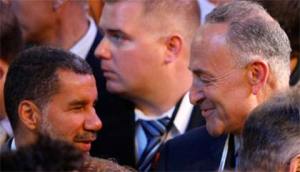 ALBANY—Senator Chuck Schumer said this afternoon that he had heard no negative reaction to New York State's inaction in undertaking budget cuts, and that the delays may even work to the benefit of the economy.
Schumer was asked directly whether he had heard criticism of Albany's inability to enact budget cuts in Washington, and answered, "No."
"The problem here is that we intend to pass a stimulus package to get the economy going. But if at the same time the federal government is putting money into the economy the states are taking it out by either raising taxes or laying off people, it's sort of robbing Peter to pay Paul, or giving with one hand and taking from another," he said this afternoon at an event at a local hospital.
He was optimistic aid would come, and that New York would get a strong share of anything appropriated.
"It still would be, if it's a $40 billion amount, New York's going to do very well. Now it's not going to eliminate the budget problem New York State has but it should really help make things less severe," Schumer said.
Before a special session last week, David Paterson said on the radio that he would travel to Washington "to talk about a second stimulus package, but I must tell you that, very relevant to whether New York gets help from Washington, is Washington's view of whether we are managing our own affairs."
NOTE: This post has been corrected from an earlier version.