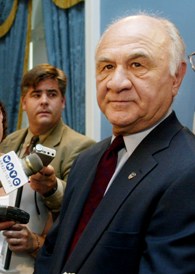 Here at the City Council budget hearing on public safety, Fire Commissioner Nicholas Scoppetta testified a few minutes ago that his department will begin closing "several fire companies" between the hours of 6 p.m. to 9 a.m.–a savings about $8.4 million.
Scoppetta later said the department will eliminate five fire companies, but the department has not identified which ones. It is "still doing the analysis," Scoppetta told the City Council members at the hearing.
Night hours are being targeted for cuts because, Scoppetta said,"We can get to emergencies much faster at night."
In response to questioning from City Councilman Jimmy Vacca, Scoppetta said if additional revenue were made available, he would still have to shutter several companies.
"If we get the income from the taxes, we can't now use that to fund other items we proposed cutting," the commissioner said, referring to an increased tax on fire insurance that he hopes Albany will pass.
Scoppetta also said another revenue-generator–charging nonprofits for fire inspections–has to be approved by the City Council.
City Councilman Peter Vallone Jr., said he was glad to hear he'd have to weigh in on the measure, because he'd like to vote "no."
UPDATE: "Well, I think the mayor has been very fair, even generous, with the fire department in the support he's given us," Scoppetta told reporters after his testimony, citing increased perks like more training and newly issued personal safety ropes.
"We have a very good relationship with City Hall and that means a very good relationship with the mayor. The fact that he's going to be here, we think, for five years instead of one more year, is a very positive thing, for the fire department and for the city."
When I asked if there was anything specific he'd like to accomplish in the mayor's third term, Scoppetta laughed and said, "Oh, I mean, I think we're getting way ahead of ourselves. We're just trying to get through this budget cycle."