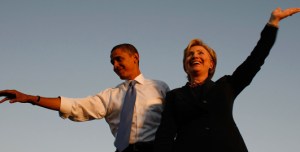 All indications are that Barack Obama wants Hillary Clinton to serve as his secretary of state and that, pending some touchy but not overly problematic haggling over the finances of her husband's foundation, he will soon formally offer her the job – which she will accept. After all, word of the prospective move broke last week and neither of the principals has sought to squelch the speculation.
But there have also been reports that Mrs. Clinton, well into her second term in the Senate, has conflicted feelings about joining the administration. If she does still harbor presidential aspirations, such a reaction would be perfectly understandable.
The office of secretary of the state was once the preeminent steppingstone to the presidency, but that was back in the early days of the republic. Starting with Thomas Jefferson in 1789, five future presidents – James Madison, James Monroe, John Quincy Adams and Martin Van Buren were the others – ran the State Department (actually, the Foreign Affairs Department, as it was then known) in its first 40 years of existence. But in the 180 years or so since then, just one person – the forgettable James Buchanan – parlayed the position into the nation's top job.
Few modern secretaries have gone on to seek the presidency, much less consider it. But there are a few exceptions, all of which notable for their futility.
There was, for instance, the case of Alexander Haig, a decorated Korean War veteran who went on to climb the Pentagon ranks, serve as Henry Kissinger's chief lieutenant, run Richard Nixon's White House and attain the rank of Supreme Allied Commander for NATO forces in Europe. Then, in 1981, he was tapped by incoming President Ronald Reagan to serve as secretary of state.
Given Reagan's limited overseas experience and general detachment, Mr. Haig assumed he would have expansive, virtually unchecked authority to write U.S. foreign policy. Instead, he clashed repeatedly with the president and the first lady, as well as Vice President George H. W. Bush, and was drummed out of office in less than two years.
But Mr. Haig had been an unusually visible secretary of state (speaking from the White House hours after Reagan was shot in 1981, he famously asserted to an anxious nation, "I am in control here") and had come to the job with unusually high name recognition. Exiled from the administration, he began scheming to convert his celebrity into a White House bid, penning a defiant memoir, 1984's Caveat, and positioning himself to run to the right of Mr. Bush in the 1988 Republican primaries.
That campaign, though, proved a chaotic and poorly funded catastrophe. Thanks to his name, Mr. Haig fared well in initial national polls, but those numbers did nothing but plummet. After finishing with less than 1 percent support in the lead-off Iowa caucuses he exited the race and promptly endorsed Senator Bob Dole, a last-ditch effort to settle the score with Mr. Bush, who nonetheless won the next week's New Hampshire primary – and the G.O.P. nomination. Not much has been heard from Mr. Haig in the 20 years since then.
Others were intrigued by the presidency, but didn't pull the trigger. James Baker, the first President Bush's secretary of state and confidante, was hailed for his Gulf War leadership and actually finished near the top of the first poll for the 1996 Republican presidential nomination, conducted just days after the '92 election. (He had 12 percent, behind Jack Kemp's 20 and Mr. Dole's 19.) But his fame was fleeting. Without his office – or a war to help oversee – Mr. Baker faded from public view quickly and never seriously entertained a '96 bid.
Ed Muskie, brought in from the Senate to replace Cyrus Vance at State in the final year of Jimmy Carter's term, also still dreamed of the White House, having blown a 1972 bid for the Democratic nomination that had been his for the taking. As Carter and Ted Kennedy bloodied each other in the run-up to the 1980 Democratic convention – and with polls showing both lagging miserably behind Reagan – Muskie, then 66, quietly positioned himself as a compromise choice. A draft movement was launched that summer but failed to ignite – he was a has-been, in most eyes – and Mr. Carter was easily renominated.
Granted, Mrs. Clinton, should she take the job, won't be like most secretaries of state before her – even the politically ambitious ones. Her losing campaign this year was still far more successful than Mr. Muskie's in '72, and her name recognition easily exceeds that which Mr. Haig brought to the job – and will be far more enduring than Mr. Baker's was in the early '90s.
But that doesn't mean the job will enhance her long-term political positioning. For one thing, most secretaries don't even last a full term, let alone two. She could find herself out of the administration, without the visibility of the Senate to fall back on, long before the next open Democratic contest. And while it's logical to assume that her work would place her in an almost daily spotlight, Americans' default attitude is to ignore foreign policy. Absent a crisis, she may not get the attention we now assume she will.
Mrs. Clinton will be 69 years old in 2016, hardly too old to run again. But if she wants to, the State Department may not be the best place to spend her time between now and then.