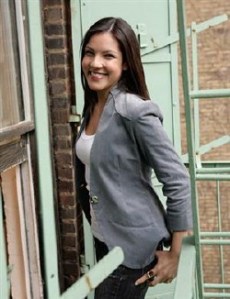 "What do you think? Let me know. Meanwhile…see you about a million times this week, I suppose." That's how the Vintage book publicist and essayist Sloane Crosley closed a pitch letter she sent to this reporter on Monday afternoon. Really, what is it with this week? The National Book Awards suddenly make everyone want to go out? Or is it maybe just this whole autumn? That Bolano book launch should have been a red flag: Something, who knows what, is making publishing people want to party their brains out right about now.
Monday night, mere hours after Ms. Crosley sent that email, something like three things started happening practically simultaneously: at the National Arts Club, a cocktail hour for Lapham's Quarterly; elsewhere, a party for 35 year olds at Tribeca Cinemas and also one honoring book clubs (?) at Pierre. Then last night it was a Moth benefit competing with the Housing Works Gin Mingle competing with tamizdat editor Keith Gessen and Mark "I'm a Reasonable Man Get Off My Case" Greif interviewing Dissent's Michael Walzer at the New School competing with former Hyperion editor Will Schwalbe's Cookstr.com launch at Pasanella & Son. Tonight it's the National Book Awards at Cipriani's and the Weinstein/Grove "drinking and dancing" after-party at Socialista. Thursday there's The Nation's Fall Books party and Friday, n+1 celebrates the release of its seventh issue.
All of which is just great, except hey, intelligentsia, how about slowing down a little! What happened to going home after work and watching Netflix on the couch?
Forget about it. Housing Works was packed last night. Josh Ferris gave a speech about his dad, and privately wondered why he wasn't nominated for the National Book Award again this year considering he didn't even win last year. Ms. Crosley was there too, just as she was last year, and was seen at one point bidding Moby goodbye. Elyse Cheney, the literary agent, thought the music was way too loud and begged whoever would listen/could hear to please find the manager of the store and ask him to turn it down. "Who's the guy who's running this party? she said. "Someone has to tell him to turn the music down." "The DJ is right over there — why not just ask the DJ?" someone said. Ms. Cheney replied, with authority: "You can't just ask the DJ."
Later, when the message reached him, the store manager didn't seem to know whether to take Ms. Cheney's request seriously. He said he was pleased with the Mingle, but in a technical way that he didn't think any of the guests could really appreciate because they didn't have to decide, for example, where to put the open bar so that there wouldn't be a bottleneck by the coat racks.
Dale Peck made a remark about feeling old because his former students were now coming to the Gin Mingle in a professional capacity rather than as children. Zoe, the red-haired girl with glasses who works at Housing Works and is always riding her bike around Fort Greene, announced happily that she and her boyfriend Matt were going to get married. "It was mutual," she said, which means simultaneous proposals maybe?
A few blocks away, the Farrar, Straus & Giroux editor Lorin Stein was looking at some art in a gallery when some friends spotted him, and it was revealed, to everybody's amusement, that he did not even know what the Gin Mingle was.