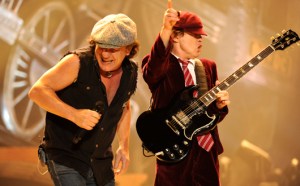 Last week we wondered whether or not healthy CD sales of AC/DC's Black Ice might harbor some good news for the lowly compact disc. Well, the Aussies' platinum record—and a slew of other successful releases by Bruce Springsteen, T.I., and Metallica—still weren't enough to stop a dramatic slide in CD sales last month. According to Coolfer (via rollingstone.com), sales dropped 19.4 percent compared to last October. Even worse, sales dropped 20.4 percent in September compared to the same time last year.
This is bad… real bad. Though there's a fairly obvious explanation. As Coolfer points out, the economic collapse at least partially accounts for Americans' sudden aversion to compact discs, particularly when you consider that CD sales were only down 12.7 percent before September arrived with its Wall Street insanity. Buying the latest Eagles record just isn't high on the to-do list when you've got a mortgage to pay.
With upcoming releases by the Killers, Nickelback, Beyoncé, Kanye West, and of course Guns N' Roses (with their long-awaited Chinese Democracy), hope appears to be on the way. Though if this economic crisis continues far into next year—which it's showing every sign of doing—the compact disc may need to start thinking about early retirement.