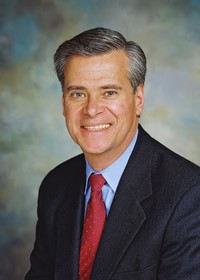 After speaking on stage together at turkey giveaway, Republican State Senate Leader Dean Skelos gave Democratic State Senator Ruben Diaz, Sr. a hand-shake hug, and thanked him for his kind words.
(Diaz has introduced Skelos minutes earlier, welcoming him to the Bronx and encouraging the crowd to applaud him. He said he hoped the two could share more moments like that one.)
Backstage, as the Spanish trumpets and drums began playing their instruments, Skelos smiled and danced a little jig.
The two hugged again and then parted ways: Diaz back on stage, Skelos, out the door.
In the lobby, Skelos declined to speculate on his chances of winning the support of Diaz or other Democrats come the leadership vote in January.
"I have no idea. I'm not a gambler. You'd have to ask him," Skelos said.
I also asked Skelos about proposed changes to the way the State Senate Finance Committee operates. If enacted, they would give enormous amounts of power to the chairman, and could be a way to lure a Democrat to other side.
Skelos scoffed at the idea it was an attempt to get a Democratic to vote for him as leader, saying, "No matter what you do, you're going to be criticized."
He added, "We have to put politics aside. The elections are over."
Before leaving, Skelos repeated a pledge he made earlier not cut programs for seniors even though the state is in an economic crisis.
Skelos, who once chaired the Committee on Aging, said, "Many of the programs that are in effect today are programs that I sponsored when I was chair of that committee. And I think senior citizens need that kind of protection. We shouldn't be taking pharmaceutical assistance away from them. We should be looking to expand it."