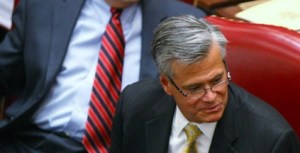 ALBANY—No bill will be submitted in the special session today, and Governor David Paterson will travel to Washington tomorrow to lobby for federal aid to bridge New York's budget deficit.
This means no votes will be taken on Paterson's original $5.2 billion in cuts and adjustments this year, and it leaves a larger deficit next year still unaddressed.
It also means that Senator and still-Majority Leader Dean Skelos has gotten his wish that cuts – including to school aid – will not come this year. It's a procedural win for him, if not a long-term political one.