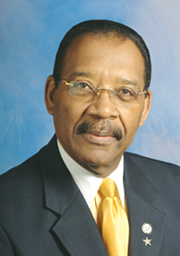 ALBANY—The Associated Press is reporting that State Senator Malcolm Smith will attend an event Tuesday sponsored by Gang of Three member Ruben Diaz Sr.
But they won't exactly be breaking bread. Reached by phone, Diaz said the event will consist of himself and his son, a state assemblyman, handing out $15 vouchers to senior citizens from 21 centers around his district.
"I'm inviting Senator Smith, I'm inviting Senator Skelos, I'm inviting the governor," Diaz said. "I'm not sure who will attend. But I would hope that they will come to help me make a very happy day for the seniors."
Mark Hansen, a spokesman for Senate Majority Leader Dean Skelos, said he was invited three weeks ago and plans to attend.
Diaz's vote is still uncommitted in the contest for senate leadership.