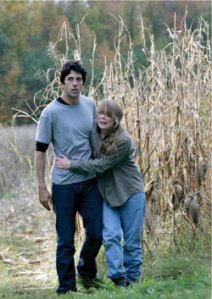 Lake City
Running time 92 minutes
Written and directed by Hunter Hill and Perry Moore
Starring Sissy Spacek, Troy Garity, Colin Ford, Rebecca Romijn
Hunter Hill and Perry Moore's Lake City, from their own screenplay, was designed from the outset as a vehicle for veteran Oscar-winning actress Sissy Spacek. It was also consciously and even self-consciously modeled after such "Southern" movies as To Kill a Mockingbird (1962), Sling Blade (1996), One False Move (1992), Tender Mercies (1983) and The Last Picture Show (1971). In their joint Director's Q&A, Mr. Hill and Mr. Moore discuss the genesis of the film: "Lake City burned a hole through us: it was a story we had to tell. We're both New Yorkers, but we grew up in the South, with its rich tradition of strong women who stand against all adversity to keep their families together. Our own mothers reflect that tradition, and Sissy's character, Maggie, embodies it. At bottom, the movie was made to honor the bonds between mothers and sons.
"The story itself is an analog of some deeply emotional experiences through growing up in the South. The love of family, the longing for acceptance, the challenge of reconciling past pain with present needs, are all strands we pull together to weave the tapestry of the story. The strength of family, the bonds of mother and child, are tested to the utmost as harrowing events converge in the climax of the film."
The film's actual narrative follows the director's prescriptions perhaps too literally. There is very little wasted motion, to be sure, but also very little real-life like ambience. For example, the male protagonist, Troy Garity's Billy, is introduced across the table from his fellow cocaine dealer/nemesis, musician Dave Matthews' Red, presumably in an urban or semi-urban environment. But that is just about all we see of the area until Billy packs up his belongings and takes a little boy named Clayton (Colin Ford) with him on his forced escape to his hometown, along the way making frantic, unanswered phone calls to the boy's mother, Hope (Drea de Matteo). It seems that Hope has run off with a great deal of money and/or narcotics belonging to a fearsome gang of drug dealers.
Previously, we have been introduced to Ms. Spacek's Maggie as she fended off a lucrative offer to sell her ancestral farmhouse to developers. We later see her operating a tractor, but are never shown what she produces, or indeed how she makes a living commensurate with her high-and-mighty dismissal of developers, among society's newest villains. Some quaint townspeople are introduced, including Roy, a guitar-playing gas station operator, cast with vintage Nashville star, Keith Carradine.
On their way to Maggie's house, Billy and Clayton are pulled over for speeding by an attractive lady trooper named Jennifer (Rebecca Romijn), who was not only Billy's high-school classmate, but also, like Billy, an ex-drinker who stopped cold turkey and joined Alcoholics Anonymous. This string of coincidences is typical of the movie as a whole as it struggles to establish a foothold of plausibility before the mandatory climactic melodramatics take hold. In fact, as soon as Billy is settled in at Maggie's house with Clayton, he rushes off to attend the local chapter of Alcoholics Anonymous, where he encounters Jennifer, and you can write the romantic progression for yourself.
Still, the actors are effective enough in their assigned roles to keep the proceedings moderately coherent. Mr. Garity has the hardest job in making Billy traumatized well into adulthood by his lingering guilt over his part in his brother's accidental death. Ms. Spacek is fortunately on hand to supply this film, as she has supplied so many others, with a necessary degree of credibility.
asarris@observer.com