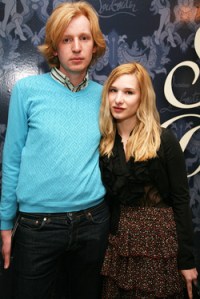 On April 29, 2007, Socialite Rank—the menacing website that stacked socialites against each other in a controversial weekly rating system—closed for business. A month or so later, after much speculation and finger-pointing, its founders were exposed to be nearly identical Russian step-siblings Olga Rei and Valentine Uhovski (sometimes called Valentine Rei) , who were both 23 at the time.
Immediately after the site shut down, the duo, who identified themselves as former child stars in Russia, talked about making their clever social experiment into a book. They planned to call it The Year of The Rank; a documentary was rumored.
Instead, earlier this month they launched an astrology website called Astro Crack.
It turns out Mr. Uhovski and Ms. Rei have become known around town for their "special powers"-guessing people's zodiac sign immediately after meeting them. "I think we'd need to spend an hour with a person to make an educated guess, though our accuracy rates are pretty high," Ms. Rei, who is now 24, confessed to the Transom.
Though the siblings came up with the concept of their new website together, Ms. Rei is currently the sole editor. She posts under the pseudonyms "Lula" and "Luca," making educated guesses about the zodiac signs of television characters, among others—Gossip Girl's Blair Waldorf (Leighton Meester), for instance, must be a Scorpio because, "she wants to be loved, but she loves to torture others with a sweet smile," but 30 Rock's Liz Lemon (Tina Fey) is a Taurus because she is "wickedly funny, weirdly determined, and very wholesome." (It should be noted that Ms. Rei is an Aries, which, according to the website, means she is ambitious, competitive and honest.)
"Astro Crack was actually an idea that Valentine and I came up with before Socialite Rank," Ms. Rei said. "We've always been fascinated by astrology, but in these very uncertain times it feels like a right project to put out online. It's actually not accidental that during the height of Vietnam War, our country was obsessed with astrology.
"Everyone needs astrological advice. If they say they don't, they are in denial," she added. She said that she picked up her astrological abilities through reading "piles of books" and observing patterns in behavior. All of which raises the question of whether the siblings' Year of the Rank was an apt lesson in behavior studies.
"Working on SR was completely different. It was basically more like a late night super spy operation. It feels refreshing to actually respond to few Astro Crack fan letters from Japan with my name on it," Ms. Rei said.
But the step-siblings haven't exactly left Socialite Rank in their past.
"For the record, Socialite Rank is not dead…just yet," Ms. Rei said. "I doubt that SR will ever be resurrected online, but a significant project is and has been in the works. We really envision this venture to be very positive and entertaining and hopefully it leaves a legacy that we feel SR really deserved."
But when the Transom begged for more details–please!–Ms. Rei replied in a way that was reminiscent of Socialite Rank's cryptic tone:  "Sorry, but we can't provide any more details at this time."