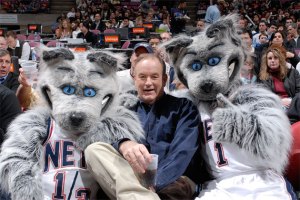 On the heels of the Election, the Pew Research Center for People & the Press recently conducted a survey in which they asked Americans to name their favorite and least favorite TV journalists and anchors during the campaign.
Shockingly, the survey found that Republicans and Democrats differ in their taste for punditry. Republicans in the survey, for instance, made Fox News' Bill O'Reilly their top favorite (winning 9 percent of vote). Democrats made Mr. O'Reilly their top least favorite (winning 10 percent of their ire).
But there was one journalist who turned up in the results of the survey as a crossover hit: NBC Nightly News anchor Brian Williams!
Mr. Williams landed in the #5 most popular position among both Republicans and Democrats.
How you like that balance, Charlie?
(Mr. Williams' chief competitor, Charles Gibson of ABC News, came in as the second most favorite among Democrats, but failed to crack the top 10 among Republicans. We're guessing that had something to do with the Bush Doctrine).
Mr. Williams' victory during campaign season may be short-lived. According to the study, "fully 82% say they will not miss following election news."