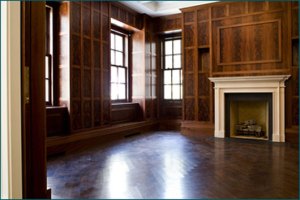 Anxiety has slowly crept into the normally high-chinned little world of Manhattan luxury real estate, though that doesn't mean the very rich trying to unload very expensive New York apartments are actually getting desperate to sell. But maybe desperation is around the corner.
Consider Ramesh Singh, an executive at the huge Swiss-based bank UBS, who now has two huge Park Avenue apartments on the market—both listed at enormous discounts.
He's spent years as the global head of mortgage-backed securities, the financial instrument that has more or less strangled the economy. Last month, after serious mortgage-related losses, UBS agreed to a multibillion-dollar government bailout.
In June, Mr. Singh and his wife, Farida Khan, reportedly paid $20 million for a 15-room, 7,234-square-foot duplex at 823 Park Avenue, a century-old building freshly remade into luxury condos. They had signed their contract in April 2007; and around that time they listed their old co-op on Park Avenue, a 4,225-square-foot sprawl at 860 Park, with Brown Harris Stevens' Kathy Sloane. They asked $13.4 million, about twice what they themselves had paid in 2004 (when they sold off yet another Park Avenue co-op—a duplex at 941 Park).
This February the price tag at 860 Park went down to $12.75 million; a month later it was cut to $11.95 million; by this May the co-op cost $10,995,000; by the end of July it was off the market. Early last month, it came back on the market with Corcoran's Carrie Chiang, asking just $9.5 million. It still hasn't sold.
Meanwhile, in August, Mr. Singh put his new 15-room duplex at 823 Park Avenue on the market with Brown Harris Stevens' Shirley A. Mueller and Paula Del Nunzio, asking $24.75 million. Floor plans show eight bedrooms; a bedroom-size reception room; a foyer; a gallery; a kitchen plus an "entertaining kitchen"; a terrace off the master bedroom suite; a massive living room; a library; and a dining room.
August's $24.75 million asking price became $21.75 million in October. Then, last week, an amazing thing happened: The asking price came down to $19.95 million, less than what Mr. Singh and his wife paid just a few months ago.
It's hard to imagine the place won't sell soon, especially considering that they did work there—like extending the library's mahogany paneling to the ceiling, according to the listing, or adding "'art lifts' so that a work of art drops to reveal a large flat-screen television."
No brokers involved would comment for this story, and Mr. Singh did not return e-mails, but it's likely that his plan is to live in the apartment that doesn't sell.
mabelson@observer.com