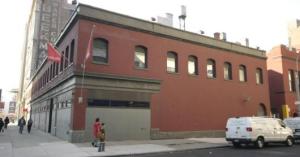 On Wednesday night, former Knitting Factory owner Michael Dorf unveiled his new 21,000-square-foot City Winery in the former El Diario space at 143 Varick Street.
The refurbished building, now housing some 250 barrels of wine, is owned by Trinity Church. And, as part of his lease agreement, Mr. Dorf said he is committed to providing the church with one big barrel of custom-made sacramental wine each spring.
Other barrels are reserved for private owners, each shelling out $8,000 and up to "experience the full winemaking process: crushing, pressing, fermenting, barrel tasting, bottling and labeling."
The venue will also include two wine bars serving 500 various bottles and 50 different varieties by the glass, as well as a Murray's Cheese Shop, and a stage for live music. Upcoming performances include sets by Suzanne Vega and Rufus Wainwright.
Booked through the next month with private events, the venue opens to the public on Dec. 31 with a performance by Joan Osbourne.