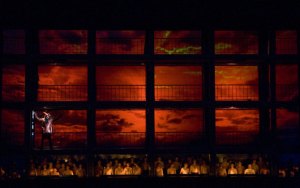 In last week's column I argued in favor of the awesome simplicity of Peter Brook's production of The Grand Inquisitor—that its complete lack of video effects amounted to a revolutionary statement nowadays. Mr. Brook has steadfastly avoided using the fashionable technological stuff (the computer-generated illusions, film projections, video images, infrared cameras, scrims and so on) in favor of an unmediated, utterly natural stage magic.
For a generation, Mr. Brook has been described as a guru of theater and one of its greatest directors. But no one appears to be listening to him.
It's almost impossible not to see a new production today that isn't in some way trying to be an onstage film—an alternative reality, or a simultaneous video. What happened to the power of the Word? Language? Story? Acting? How about the man-made set?
What happened to theater's imagination—and ours?
MY PREFERENCE WILL always be for a theater that's true only to itself. Call it one of transparent naïveté—as a storyteller sits by a fire and tells us his story. Technology may now be our new fireside. But I believe that theater's raison d'être resides in its uniqueness as a radical alternative to the false magic of techno effects and film.
Only one theater artist in my experience has successfully married the potentially colliding worlds of new technology and theater—the brilliant French-Canadian experimenter Robert Lepage. Mr. Lepage is the postmodern visionary who has just staged Berlioz's La Damnation de Faust, conducted by James Levine, at the Metropolitan Opera House. Described as the Met's "first interactive opera," if you please, the ambitious new production amounts to an overture to Mr. Lepage's forthcoming Ring cycle at the Met, the first since Otto Schenk's admired production in the 1980s. The Lepage Damnation is a major artistic gamble by the Met's new general manager, Peter Gelb—in my view, his most significant one.
By comparison, Mr. Gelb's association with Lincoln Center Theater directors who are meant to reinvigorate the Met's repertoire looks like a safe, provincial bet. Bartlett Sher staged a solid production of an old warhorse, Rossini's The Barber of Seville, at the Met last season, and its one or two familiar theater tricks were enough to leave opera critics hyperventilating with joy. Jack O'Brien, the veteran director of the forthcoming Met production of Puccini's triptych of one-acters, Il Trittico, is an accomplished, wide-ranging theater director (The Coast of Utopia, Hairspray)—but daringly innovative productions aren't among his gifts.
Then again, my disappointment in filmmaker Penny Woolcock's current Met production of John Adams' Doctor Atomic is primarily over her surprisingly poor, literal-minded use of video. Second-rate video work onstage is quite usual, however, and it's invariably overpraised—from Rupert Goold's watery rip-offs of lowbrow slasher movies and even Stanley Kubrick's The Shining in his recent Macbeth, to Ivan van Hove's presumptuous tribute to Ingmar Bergman in the flat, uninspiring video close-ups of his actors in The Misanthrope.
But Robert Lepage is in a virtuoso super-league of his own.
He isn't locked into a predictable avant-garde style like, say, Elizabeth Le Compte at the Wooster Group; to the contrary, the work of his internationally renowned Quebec company, Ex Machina, remains unpredictably open in its search for a new theater vocabulary. Wanting to create a genuine dialogue between different ways of storytelling, Mr. Lepage is testing the limits of what he calls "the toys"—his bag full of technological gadgets—that in turn are fast becoming more sophisticated with each passing day.      
THIS DAMNATION IS the latest incarnation of a production that first opened nine years ago at the Saito Kinen Festival in Japan. Now 50, Mr. Lepage has staged relatively few operas. His double bill of Bartok's Bluebeard's Castle and Shoenberg's Erwartung that I caught in the mid-'90s was a minor experiment compared to his previous theater piece—the astonishing Needles and Opium, his wholly original riff on Jean Cocteau, Miles Davis, opium and flying. No matter that my preferred theater esthetic is anti-technology, Mr. Lepage's surreal synthesis of video and theater was nothing short of mind-blowing.
Elsinore, his subsequent one-man show (in which he starred), was intended as a sketchbook for a future full-scale production of Hamlet. He played Hamlet, Gertrude, Claudius et al., which led me to the conclusion that he wasn't a genius after all, but a nutjob.