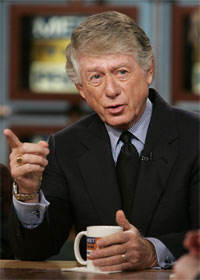 Ted Koppel is leaving the Discovery Channel six months before the end of his contract, it was announced today.
The move has since touched off speculation that Mr. Koppel made the move in order to become the next moderator of NBC News' Meet the Press.
Mr. Koppel's name has long been a part of the rumors concerning who NBC Universal chief Jeff Zucker might tap for the coveted position.
Then again, in July, Mr. Koppel seemed to dismiss the possibility of taking over the show in an interview with Gail Shister at Mediabistro's TV Newser, suggesting that NBC News needed to hire someone younger.