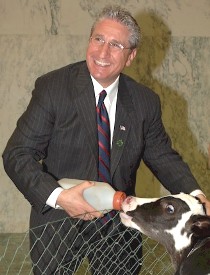 ALBANY—Assemblyman Jim Tedisco, leader of that chamber's Republican conference and one of the loudest advocates for upstate New York, sent a letter this morning to David Paterson offering his thoughts on who should succeed Hillary Clinton in the senate.
He asked for "the highest standards of public openness, transparency and bi-partisanship" in selecting a new Senator, as well as "someone who understands the urgency of addressing our failing Upstate economy."
"Recognizing the growing fiscal difficulties facing our Upstate community, I would urge you to consider naming someone who has demonstrated a clear understanding of, and commitment to, meeting the challenges of Upstate, whose residents continue to face a hemorrhaging of jobs and endure some of the highest property taxes in our nation," Tedisco wrote.
None of the top elected officials in New York are from upstate.
Paterson hasn't said who he may pick for the seat, but yesterday, he said he was looking for someone "with a combination of skills, that can represent a state has a significant rural, suburban and urban communities, which has different types of people that live in the state."
Two upstaters mentioned in speculation about the Senate succession are Representative Kirsten Gillibrand, a second-term congresswoman representing the upper Hudson Valley, and Representative Brian Higgins, a member from Buffalo.